Post by richardvasseur on Apr 3, 2018 13:28:56 GMT


INTERVIEW:
Publisher/Writer Don Everett Smith Jr.
COMPANY:
Pinion Comics
INTERVIEWER:
Allen Klingelhoets
www.jazmaonline.boards.net
Allen:
How did you go from working on comics for Blue Water Productions to starting Pinion Comics? When did you start Pinion Comics? How did you come up with the name Pinion?
Don Smith:
Hello, Allen! First off, it is so cool to be interviewed by you guys again! You have always been very supportive and I so appreciate it!
I have not done too much for Blue Water Productions (now called Tidal Wave) in the last five to six years.
They were a great "boot camp" of sorts to learn the ins and outs of creating a comic book. I did some really good work there and I'm incredibly proud of it. But in that time, I wanted to create my stories and comic books.
I puttered around certain companies and thought, "You know what? I wanna do this myself." And in 2016 I came up with the idea of doing my own comic book imprint called Pinion Comics.
See, I've always had a special for fondness for items with wings and I loved the concept. And I was reading Psalm 91 and it discussed how God kept His children safe in His "pinions". It was going for the image of a parental bird (think hawk or eagle) and wrapping its wings around its baby birds to keep them safe from the enemies of the world.
Mix that with my character the Vampire, a winged creature of sorts, it just stuck with me.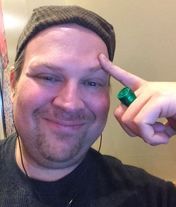 Allen:
What kind of creative control do you have over Pinion Publications?
Don Smith:
Total! [LAUGHS] This is my baby! I run this thing.
Allen: Tell me about types of stories Pinion Comics publishes? How many comics are published by Pinion?
Don Smith:
Right now, we're still very young and we're feeling our way through the world of independent comic books, but we have two issues, and third due out VERY soon!
The first features a never before seen issue of The Vampire of the Lost Highway drawn by the amazing Kurt Belcher.
It also features a back-up story with a new character called the Candle Man I created.
And then this last Christmas I released The Candle Man Christmas Special which is an 8-page fun story.
Another Candle Man story is due out very soon!
Allen:
How are you selling copies of Pinion Comics?
Don Smith:
I sell the comics through DriveThruComics and Indy Planet/Ka-Blam and I have been so pleased with how they're treated me!
I love what these two companies are doing for the industry and help out "small press publishers" or "micropublishers" like me.
Allen:
Tell me a little bit about yourself, Don. We lost old information at other Jazma website. It would be good for people to hear about you as person.
Don Smith:
Sure!
I have been in the world of comic books since 2009 as a creator and I love every minute of it. When I am not into that I run a web site dedicated Sherlock Holmes called The Sherlock Conversations (right now, it is mostly on Facebook).
At my day job, I work as a substitute teacher during the week to keep the roof over our head and I live with my beautiful wife, Laura. She is a fine-artist and a great mommy to our three cats and new tortoise - Flash.
And back in May 2017, we moved to Pennsylvania and love it out here!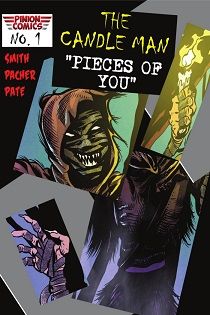 Allen:
How did you get your start in comic book industry?

Don Smith:
It was through a blog dedicated to Superman. I had followed the writings of this one writer and we got to talking and he introduced me to a small publishing company and - BOOM! - here I am!
Allen:
Did you read a lot of comic books in your youth? Do you read a lot of comic books at present time?
Don Smith:
Oh yes! I loved comic books when I was growing up. In fact, when my classmates in high school got me as a "Secret Santa" at Christmas, it was, "We can get Don a comic book and he'll be fine!"
And it was! [LAUGHS]
As for now, I gotta be honest, unless it is something independent, I tend not to read it. I am so sick of the crossovers, revamps and retellings! I would love a simple status-quo comic and not having to shell out a hundreds of dollars to get a main series and multiple tie-ins.
With that said, I am a total hypocrite and will admit I've bought DC Comics' Doomsday Clock and I've enjoyed it.
By the way, let me give a massive shout-out to my town's comic book shop Isle of Comics in South Williamsport, PA! I bought the comics there!
Those guys are awesome!!
You can Google search 'em and find 'em!
Allen:
Who are some of your inspirational creative people in comic book industry?
Don Smith:
I gotta tell you, some of my dearest friends are in this industry! I have to site recently Brian K. Morris and Rusty Gilligan especially!
Also, artists and creators Anthony Hochrein, Rickman - a New Jersey based creator, James Burton, Kurt Belcher, Michael Grassia and Joseph Regis are some of my most favorite people to work with!
Those guys are awesome!
Of course, Mike Rickaby of CE Publishing is so supportive to his creators who work with him! His Megabook has given more support to indie creators!
Those guys are my heroes!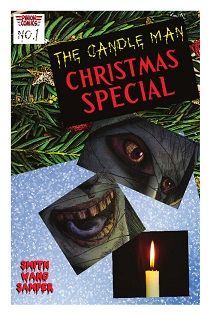 Allen:
How has your work in comic book industry helped you gain confidence to start Pinion Comics? Are you Publisher or co-publisher of Pinion Comics?
Don Smith:
Honestly, I've seen that if other people can do it, why can't I?
Guys like Michael Grassia and Rusty Gilligan have been saying to me for years, I could do it. So in 2017, I believed it.
And as of now, I am the sole publisher.
Allen:
Are you writing any stories for Pinion Comics?
Don Smith:
Basically, Pinion is my chance to get my stuff out there. I've been sitting on scripts and ideas for a long time now, and now this is there home.
Allen:
Tell me about how idea came about for vampire story.
Don Smith:
"THE VAMPIRE OF THE LOST HIGHWAY" is a story of a man who is cursed to wander a road in a MidWestern county called Fort Hawke. He has to help people in need.
He is not a vampire in the way Dracula is; he was given that name like the Jersey Devil is called "devil" and he is technically not a fallen angel.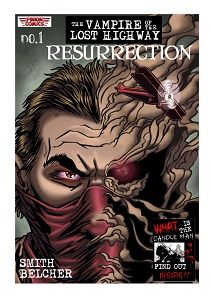 Allen:
What would you say age group would be for story?
Don Smith:
I always try to aim my stuff for a PG/PG-13 audience. It is my style and makes sense. I have always said my stuff is "age appropriate" and not "school appropriate".
I am working with an awesome artist named Jackson Gebien on something that is "school appropriate."
Allen:
Tell me about artist for story or stories you are working on for Pinion Comics. Are you working on one issue or on-going series?
Don Smith:
I've worked with some of the best artists on the independent circuit of comics like James Burton, Don Alan Smith, Rusty Gilligan, and Michael Grassia to name a few.
Also, there is a plethora of amazing artists I have worked with from around the world like Brenda Salazar, Chandra Kelly, Jackson, Ming Wang and Denis Pacher.
Allen:
Are you working on any other projects at present time?
Don Smith:
Well, I have the page dedicated to Sherlock Holmes I post in. Also, I have been writing for Pro-Se Publications. One of my stories about a cowboy who wore a mask, called the Masked Rider, is out and available on Amazon.com.
The guys over at Pro-Se do amazing things with pulp projects and are a ton of a fun!
Allen:
What would you like people to know about Pinion Comics?
Don Smith:
Pinion Comics is about having fun! It is about escape! We got enough bringing us down, this is just a great place to escape and enjoy yourself!
Allen:
I hope things are fine with you Don Smith. I really enjoyed your work at Blue Water Productions, and I am happy to see you are still in comic book industry.
Would you like to leave our Jazma readers with any closing thoughts?
Don Smith:
Allen, I want to thank you again for this chance! You have been so good to us creators on the indy level, and I appreciate it!
My closing thoughts are this – anyone can do anything they want. Sometimes (and some days) we need a bit more courage, but we can do anything we want!
I want to tell stories in comic book/sequential art/graphic novel-like ways and I am doing so here at Pinion Comic!
Thanks so much again!
***
VISIT PINION COMICS AT
WWW.PINIONCOMICS.COM
.
THE VAMPIRE OF THE LOST HIGHWAY: RESURRECTION #1 marks the return of the dark winged guardian of Fort Hawke County and the Lost Highway.
It's the early 1920s and the Vampire flies to the rescue of Esther Dare, the only female pilot in Fort Hawke County. Her biplane is experiencing engine failure and is seconds from crashing into the Lost Highway below.
Can the Vampire save the day?
Find out!
In the second story, a thief is stranded in an abandoned motel as the terrifying Candle Man stalks him.
It is a life and death situation, and there's no escape.
Meet the Candle Man, the newest creature of the night.
**
THE CANDLE MAN CHRISTMAS SPECIAL #1 is about a wealthy CEO is spending his evening berating an employee about wanting to take Christmas off to spend with the family.
Well, it appears the Candle Man will have something to say on the subject.
And it is gruesome!
Enjoy the story for free! Consider it a gift from your new friends at Pinion Comics!
**
THE CANDLE MAN "PIECES OF YOU" #1 At some point in time, all relationships come to an end.
Most usually come to an end over falling out of love, arguing over finances, or issues with children.
However, this is a story of how one came to an end because the Candle Man literally ripped apart a cheating husband.
Allen Klingelhoets