Post by richardvasseur on Apr 13, 2018 21:04:18 GMT
Interview with:
Terrance Griep
Occupations: Professional writer and wrestler
Comic books: Scooby-Doo and other titles mentioned in interview
Wrestle name: Tommy "Spiderbaby" Saturday
Interviewed by: Allen Klingelhoets
jazmaonline.boards.net/
Allen:
When did you get your start in comic book industry?
Terrance:
After years of unsolicited proposals and countless cold calls, my writing was originally printed in Heroic Publishing's Flare First Edition #5, with a cover date of February 1993.
www.heroicmultiverse.com/heroicpub/covers/fq05a.jpg
Allen:
What sort of comics did you read as a kid?
Terrance:
I read anything I could get my hot, little hands on, my favorite funny books being super-hero comics and horror comics, especially the horror comics published by Charlton. I loved Charlton's narrators who, as an ensemble, were far rangier than the Crypt-Keeper, the Vault-Keeper, and the Old Witch.
Allen:
What sort do you read now?
Terrance:
I've fallen madly in love with Yoe Books, a terrifically eclectic reprint line presented to the world by IDW. I'll read anything Yoe Books puts out, but HAUNTED HORROR and WEIRD LOVE are my darlings. My taste in comics hasn't changed much since childhood...
Allen:
What is the favorite of your comic book stories wrote?
Terrance:
That's a hard question to answer because, of the me-written comics that I like, I like them for different reasons. For instance, I like JLA SHOWCASE #1 because it features my first official use of Superman, Batman, and Green Lantern; I like BATMAN 80-PAGE GIANT 2011 #1 because it represents my first stab, so to speak, at the Riddler; and I like SCOOBY-DOO #3 because it embodies my first collaboration with Joe Staton whose art wowed me as a kid and whose friendship honors me today. I think my very favorite me-written comic, based on the merits of the me-writing alone, might be SCOOBY-DOO #48, which features a monster, the Elf King, who speaks wholly in rhyme all of the time.
Allen:
Have you ever been abducted by aliens?
Terrance:
I've wrestled aliens...but abducted by them? No.
Allen:
How does real life drift into your stories? Or are some of your stories based on things that have happened to you?
Terrance:
Every story owes its existence to a unique origin. Sometimes the idea comes from the real world; sometimes the idea comes from my right brain and I shoehorn it into the real world. Sometimes I make up a new, unreal world into which to shoehorn the made-up idea. Ultimately, I try to connect to readers emotionally, so, for instance, if I write about something that scares me, I'll think, "Would it scare most people?" If the answer is yes, then I can proceed with the story. If the answer is no, then I up my meds.
Allen:
Where in the world do you get your ideas?
Terrance:
That's the question writers get asked the most, and the most honest answer lies somewhere between "I don't know" and "It depends." I've been approached by editors who were soliciting stories that revolve around a certain theme which becomes the soil for my story's roots. Sometimes, I've been asked to contribute to an anthology featuring a particular character or his supporting cast. (Batman comes immediately to mind.) In that case, the story comes from the character. Sometimes, I'll encounter an intriguing situation in real life and then find myself imprisoned by that most awful of jailors, the question "What if..?".
Allen:
Do you write under any pen names?
Terrance:
I work as a professional wrestler using the name Tommy "The SpiderBaby" Saturday. Technically, that version of me is a published author. I'm working on a short story anthology where I intend to use the name "Tommy Saturday" simply because that name is easier to promote than my real name. Years ago, I figured out that my porn name--look it up--is Roy Century, which sounds like a pen name I SHOULD use somewhere...
Allen:
Are you also working in any other writing mediums?
Terrance:
Other than comics you mean? Sure. I've published short stories, poems, and hundreds of nonfiction articles. I've also done some educational and technical writing. Have quill, will travel.
Allen:
What was it like to have a comic wrote about your wrestling real life identity Tommy "SpiderBaby" Saturday?
Terrance:
Oh--you're referencing CHAMPIONS #55 and THE SENSATIONAL G-GIRL #1, which were comics guest-starring my alter ego and written by me, yeah? No big deal. Ha ha, I'm just kidding--it was, and remains, awesome!
Allen:
Tell me about Champions # 55 story.
Terrance:
Heroic Publishing's President and publisher, Dennis Mallonee, approached me with the idea of writing SpiderBaby into a story featuring the Sensational G-Girl, his newest character. He came up with the premise of a charity wrestling tournament whose final round the antagonist and protagonist have reached. Artist Gaetano Petrigno made my shortcomings shorter and nailed my likeness while capturing the story's slapstick feel. The fight scene between SpiderBaby and G-Girl is structured like an actual wrestling match.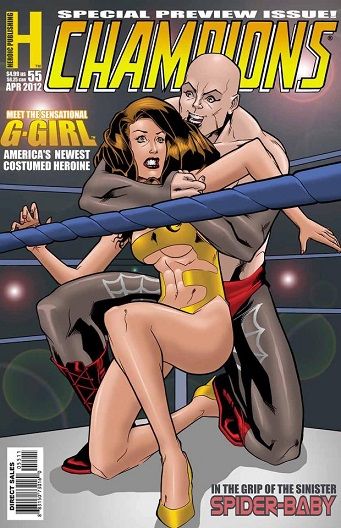 Allen:
Are your scripts altered much when turn into editors?
Terrance:
Generally speaking, smaller publishers don't make changes without consulting the writer and larger publishers do make changes without consulting the writer. Considering how much money characters affiliated with larger publishers are worth--Superman, Batman, Scooby-Doo, and the like--and considering the reality of deadlines that swirl around everyone in comics-making process, this practice is wholly reasonable.
Allen:
What are some of the rules that have to follow when writing for Scooby-Doo comics?
Terrance:
I've worked with perhaps a dozen Scooby editors over the years, and the rules have varied a little with each new face. If you know what you're doing, writing-Scooby-wise, then you know to adhere to the formula--monster, mystery, clues, chase, trap, solution--wherein the rules, sometimes explicit and sometimes not, take care of themselves.
Allen:
Do you know where Scooby-Doo's parents live? Where was Scooby-Doo born in fictional terms?
Terrance:
Scooby's parents, Momsy and Dada-Doo, are owned by Shaggy's parents. Technically, Shaggy owns Scooby, but the members of Mystery, Inc., consider him their equal. When writing the characters, I've always thought of Fred, Daphne, Velma, and Shaggy as Scooby's "real" family. They're all based out of Coolsville, USA, but, of course, the gang gets around.
Allen:
What sparked your interest to be wrestler? How long have you wrestled in professional terms? Did you wrestle in high school or college?
Terrance:
I was a lifelong wrestling fan when I joined Midwest Pro Wrestling in 2001 as a heel, or villainous, commentator. Two years in, I trained to be wrestler mostly so that good guy grapplers could beat me up during interviews without actually killing me, but a funny thing happened on the way to the squared circle--it turns out I possessed, and continue to possess, a talent for cheesing off large groups of drunken white people...which is professional wrestling gold. After my debut match on November 9, 2003, I transitioned rather quickly from full-time commentator to part-time commentator/part-time wrestler to full-time wrestler. Oh, and no--I have no amateur background at all. That stuff's all fake, anyway...
Allen:
What organization do you wrestle with?
Terrance:
Over the years, I've probably wrestled for at least twenty organizations, including several that feature lucha libre. I could name them, but the effect for your non-wrestling-fan readers would be no more meaningful than reading a bowl of alphabet soup.
Allen:
What weight did you start as being professional wrestler. What is your wrestling weight at present time?
Terrance:
I weighed 191 pounds at my debut; I'm currently around 232. Part of that gain is muscle, and part of it is goo. I'm trying very hard to rid myself of the goo, which has proven to be my most tenacious and humiliating opponent.
Allen:
What is the worst injury that you had as wrestler? Are you ever concerned about breaking hand as wrestler and not being able to write stories?
Terrance:
Performing an over-the-top-rope leg drop in May of 2005, I tore a ligament in my lower back which hurt me so badly, I had to finish the match on my back, moving my feet with my hands in order to perform guillotine choke and put my opponent to sleep--I've been in constant pain ever since. If I broke my hand, I'd figure out another way to write, even if I had to type with a glass tube held between my teeth. And to answer your question directly, yes, I'm concerned about breaking my hand...along with all of my other parts!
Allen:
What do you feel are some of your greatest accomplishments as wrestler?
Terrance:
My greatest accomplishments as a wrestler have little to do with the actual in-ring action, although I hope I'm pulling my weight in that regard, too. Because of my background in (published) writing, as well as other connections, I've brought new fans into the fold, online and in realtime. Also, I've been told once or twice that I inspire people. While that's nice to hear, I'm always wary of those sorts of compliments because they can feed a performer's ego...and a performer's ego is always his worst enemy.
Allen:
Do you feel that SpiderBaby is hero or villain?
Terrance:
He thinks of himself as an icy, bulletproof villain...or at least he wants to think of himself that way. He envisions himself as a modern incarnation of WWE's Undertaker...but he lacks the Undertaker's size and toughness. He aspires toward greatness, and he might possess the tools to achieve it, but he's too cowardly and too petty to get there. That doesn't make him a villain, though; it just makes him a human.
Allen:
How do you fit in wrestling with your writing career?
Terrance:
Adding wrestling to writing is just a matter of budgeting time, which every busy person has to do. Saturdays tend to be wrestling days; the rest of my days belong to writing.
Allen:
What are some of your favorite wrestling moves?
Terrance:
I try to keep changing my moveset so as to keep my opponents off-guard and the fans entertained. I've recently renamed the Boston Crab, a classic submission hold, the Mystic Widow and turned it into a signature finisher. By the time these words hit the Internet, though, I'll probably have changed to something else.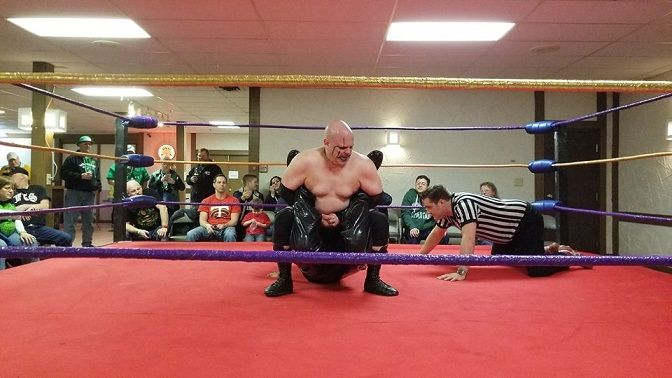 Allen:
Will SpiderBaby appear in any more comic book stories?
Terrance:
Yeah. I found a wholly-fictional wrestler, Doctor Death, in a Heroic Publishing comic book that hit the stands thirty years ago. SpiderBaby and he will do battle in a three-part story as soon as the space opens up in Heroic's titles...
Allen:
What scares you?
Terrance:
Like most writers, I'm a loner. A loss of independence is what scares me most.
Allen:
Do you ever do any collaborative stories with other writers? Also, does SpiderBaby work best in group or single matches?
Terrance:
I've never co-written anything, but I'm up for it--I enjoy collaborating with artists, and I think I could learn some new tricks by working with another writer. SpiderBaby was part of a tag team for nine years, but he's recently broken out on his own.
Allen:
How much time does it take you to write a comic book story? Do you do best at shorter or full length stories? Also, have you wrote many stories that spread over multiple issues?
Terrance:
The shorter the story, the harder it is to write. I'm not sure if I'm better at longer or shorter stories, but I know I prefer writing longer ones...including multi-issue stories. As for how long it takes to write one, I can usually produce ten ready-for-the-artist pages a day, but I've done a whole 22-page comic book in one business day, as well.
Allen:
If you could be reincarnated as any animal, what would you choose to be in next life? Also, do you believe in life after death?
Terrance:
I suppose I should acknowledge spiders in this answer, but I think I'd choose a large shark--probably a tiger shark because whites deal with too much pressure, being apex predators and all. The simplicity of a shark's purpose-driven life appeals to me. And no, I don't believe in...well, I try not to BELIEVE in anything. Based on the available evidence, I have concluded that this life is the only one we get.
Allen:
What is your feeling about comic book signing of your works at conventions or bookstores?
Terrance:
That's part of the job. Every creator is responsible for selling the creation.
Allen:
Terrance, Let's imagine a UFO just landed near you. You are the first person to address an alien species, what would you say?
Terrance:
I would encourage the aliens to leave Earth and check back with us in 500 years. We humans have got to figure out how to stop hurting each other before we're allowed to contact other realities, and I fear we're no where near that point.
Allen:
Are you willing to critique comic book manuscripts for beginning writers?
Terrance:
No. Such a practice leaves me vulnerable to accusations of plagiarism. Plenty of instruction and support can be found online.
Allen:
How did you go about as beginning writer finding an agent?
Terrance:
Like Ani DiFranco, I'm my own agent.
Allen:
What writers influenced your own work?
Terrance:
Poe was my first and biggest influence, with Hawthorne and Melville close behind. Morrison, Milligan, and Moore must shoulder some of the blame. Alan Hollinghearst, Hank Searls, and James Salter are writers I enjoy and admire and recommend. Stephen King might be best described as an inspiration, rather than an influence. Kenneth Silverman, David McCullough, and Jon Meacham are fantastic nonfiction writers. Everything is an influence, big or small.
Allen:
What are some of comic book related works that you are working on at present time?

Terrance:
I'm waiting to hear on some DC proposals, as always. I've got some work coming from Heroic Publishing that I can't discuss yet.
Allen:
What are some comic books that you would like to write?
Terrance:
I would love for Kurt Busiek to publish an ASTRO CITY mini-series something like MIRACLE MAN: APOCRYPHA wherein guest creators wrote and drew that character while Neil Gaiman was THE writer and Mark Buckingham was THE artist. I could also revisit Spider-Man's brief career as a professional wrestler. Hourman and Jonah Hex are characters I could write 50 issues about...although not at the same time. The Legion of Substitute Heroes and I would get along famously. My ideal project would involve teaming a group of five DC characters that no blue-suited penguin cared about, then telling monthly stories with real consequence and real character development.

Allen:
What is the best way for someone to contact you?
Terrance:
www.facebook.com/thespiderbaby
or wwww.twitter.com/thespiderbaby
Allen:
What are some of your hobbies?
Terrance:
I work constantly--maybe that's why I relate to tiger sharks. I love my work, so I'm not complaining, but all I do is write, wrestle, and occasionally sleep.
Allen:
Thank you Terrance for doing this interview. Would you like to leave with any closing thoughts from Spider Baby or you?
Terrance:
This ain't no dress rehearsal--this is your life. Whoever you are and whatever you're doing, get out there and bring down the house!
$$$
Allen Klingelhoets