Post by richardvasseur on Apr 15, 2018 13:05:05 GMT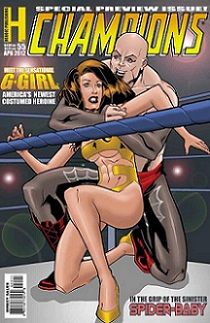 Comic book issue: Preview issue:
Champions # 55
Publisher: Heroic Publishing
Publication date: June 2012
Cost: $ 4.99 US
Story name: "At What Price Victory?"
By: Terrance Gripe and Gaetano Petrigno
Reviewed by: Allen Klingelhoets
I recently interviewed Terrance Gripe about his wrestling character "Spider-Baby". I found out he had his real life character appear in Champions # 55 by Heroic Publishing. I was lucky to read 16-page story written by Terrance Gripe.
Tommy "Spider-Baby" Saturday was wrestling a female character called The Sensational G-Girl. This was also The Sensational G Girl's costumed premier. They wrestled each other in the final contest of The Grapple Gifts Charity Tournament, the winner receiving 5,000 for their favorite charity. Spider-Baby wanted the favorite charity to be himself. The Sensational G-Girl wanted to help out with very noble cause breast cancer.
Spider-Baby does not have any super powers. He wrestles using lots of tricks like fake injuries. Also, G-Girl is member of The League of Champions. She is well-known to the public at large so she is able to act as huge draw for this sort of charity event.
I really appreciated the art by Gaetano Petrigo. I also enjoyed that Terrance wrote his real life wrestling personality into "At What Price Victory? There were some really interesting twists during story at charity wrestling event. G-Girl attempted to use Top Secret moves at charity event against Spider-Baby. She never used any super powers. It was a very intense wrestling match. I do not want to give results. I hope Terrance writes more Spider-Baby comic book stories. I recall from interview that Terrance has been wrestling professionally for over 10 years.
This is not first time real life character has been written into comic book story. I recall "The Human Fly" comic from Marvel Comics in 1980's. Bill Mantlo wrote fictional stories though based on real person. There were biography comics from Blue Waters Productions. There were even comic books with Bob Hope. It was fun to see Spider-Baby in "At Price Victory?" story.
There was also a one page biography about Tommy "Spider-Baby" Saturday. There was also a six-page story called "Bliss!" about The Tigress, written by Dennis Mallonee and art by Ciro Napolitano. I am not familiar with her character. I did enjoy story! The preview issue made me interested in reading more Heroic Publishing comic books. I give thumbs up for Champions # 55 Special Preview issue.
Terrance also told me that a sequel to "At Price Victory?" has been approved.
Allen Klingelhoets