Post by richardvasseur on Apr 20, 2018 21:26:03 GMT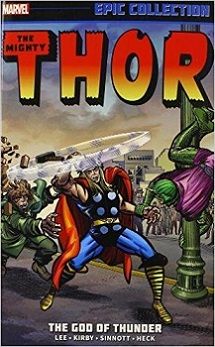 Graphic Novel review: The Mighty Thor: The God of Thunder
Publisher: Marvel Comics
Contains: Journey into Mystery Thor segments from issues 83-109
Format: Color
First Printing: 1962-1964
New reprinted format: 2014
Writers: Stan Lee, Larry Lieber, and Robert Bernstein
Pencilers: Jack Kirby with Joe Sinnott, Don Heck and Al Hartley
ISBN: 978-0-7851-8835-3
Cost: $ 34.99 US $ 38.99 Canada
Reviewed by: Allen Klingelhoets
Doctor Donald Blake discovered a gnarled cane in a Norwegian cave in origin issue # 83 of Journey into Mystery # 83. Upon striking it unto the ground he became transformed into Thor, The God of Thunder. Donald Blake had crippled leg. No one would expect him to be able to also be Thor. There was also lightning when he was transformed into Thor. He also had to keep hammer in hand. He would turn back into Donald Blake if separated from hammer more than a minute. Hammer would turn back into cane. Through-out issues get to see how Thor gained in youth ability to lift hammer. No one but Thor could lift hammer. The sentence on hammer said "WHOEVER HOLDS THIS HAMMER, IF HE BE WORTHY, SHALL POSSESS THE POWER OF THOR". Doctor Donald Blake was worthy of hammer of Thor.
I got to see rainbow-bridge that led to Eternal Asgard. I got to read about how Doctor Donald Blake had fallen in love with his nurse Jane Foster. He could not marry her though due to being an immortal in secret identity. Thor had been sworn by Lord Odin to never reveal his secret identity. Thor had other powers. He could create thunder storms and other weather situations by pounding hammer on ground in specific number of hits.
It was interesting to see characters like Heimdall, Balder, and Thor's evil brother Loki. I also got to see Asgardian "The Enchantress". There were stories based in 1960's New York. There were also stories based in Asgard. There were also some stories even based in 23rd century. The character from 23rd Century was named Zarrko.
The art was really spectacular. Jack Kirby did most of art along with several others mentioned in caption.
Thor even got to interact with The Avengers. This was in very early days of Silver Age of Marvel Comics. There were confrontations with Mr. Hyde and The Cobra, and The Grey Gargoyle.
There were also segments in many of issues about how Heimdall became guard of Rainbow Bridge leading to Asgard. There were many other stories like when Thor was boy. Stories about other Asgardian character like Bader the Brave. There were also mixes how some of Norse history myths became part of comic book stories. Frost Giants. Surtur "The Fire Demon" were other formidable foes.
It was very enjoyable reading old Thor stories from 1962-1964. Magneto and X-Men even made some appearances in Journey into Mystery # 109. I even saw Doctor Strange in issue # 108. I highly recommend The Mighty Thor Epic collection. I got my copy from library. Its great read for person that would like to read about Thor's early origin and first appearances as Marvel Comics character.
I also liked how at end of 480 page graphic novel were several pages of reprinted pages of original art. The art all involved pages or cover art from issues reprinted in issues 83-109. My favorite was alternate cover for Journey into Mystery # 83.
Allen Klingelhoets