Post by richardvasseur on May 7, 2018 21:14:56 GMT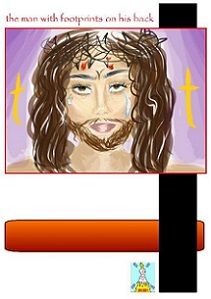 Comic book title:
The Man with Footprints on his Back

Publisher: James Rubino PO Box 760351, San Antonio, Texas 78245
Copy Write: 2018
Cover artwork: Alisa Rubino
www.jamesrubino.com/comics.htm
Type of genre: religious
Reviewed by: Allen Klingelhoets
jazmaonline.boards.net/
This is 23 page story. Mostly one image per page. Comic book has many religious overtones. They are personal reflections and ways that people lose track of following God. This can happen through watching television or gathering things like even money. Comic talks about how hard to choose good when everyone else is choosing evil. Comic book shows incredible sacrifice by Jesus for our sins. James mentions that it is best to follow Jesus than some celebrity who will never know person in real life. James feels in story that hardly anyone has genuine passion towards God. He felt that the majority of people appear to have no interest in truly knowing, or loving God. And those that do "profess" to believe in him seem perversely intent on devoting as little time as possible to him. An occasional hour on Sunday will suffice. They "believe" in God but find him "boring". We are obsessed with such trivial, meaningless, empty things while we ignore the ultimate reality---the one who made us.
I was surprised by James Rubino honesty about situations towards God. He mentioned if people spent as much time praying as they do texting maybe this country wouldn't be in the sorry shape that it is in!
James also said in concluding pages. "God created us, He gave us life, a beautiful world and all the good things we enjoy yet we shun him in every area of our lives on a daily basis and somehow we fail to see how evil that is."
James mentions that ways to get close to God are through being alone with him...meditating on his holy words. Attempting to free person from all distractions which constantly hit us through being in everyday human environment.
This is very interesting view of God. It would be great if copies of this comic book found ways into churches. Maybe comic book would even work in homeless shelters or organizations like Boys and Girls clubs. There are many fits for "The Man with Footprints on his Back". It is encouraging to read James Rubino viewpoints about God. This comic also fits anyone who has lost way in world full of distractions.
The cost of comic book is listed at James Rubino website.
Allen Klingelhoets