Post by richardvasseur on Jun 3, 2018 3:47:33 GMT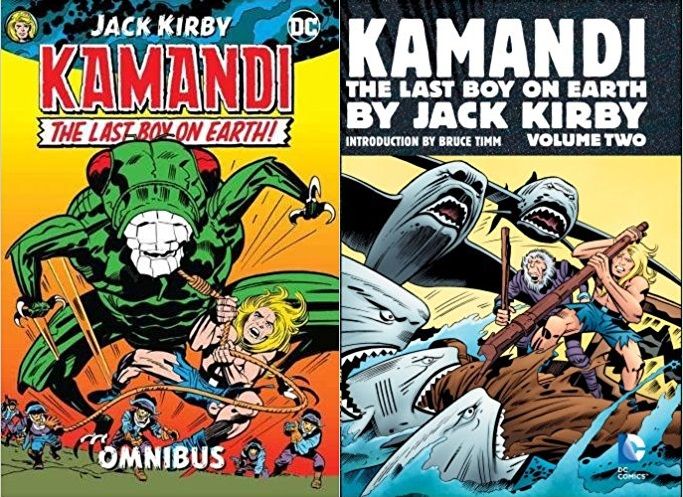 Title:
Kamandi: The Last Boy on Earth
Publisher: DC Comics
DC Deluxe Archive hard cover edition
Publication date: Volume one. 2011, Volume 2. 2012
Reprinting issues 1-40 from 1972-1976. Twenty issues in each volume
Kamandi
created by Jack Kirby
Volume two ISBN 978-1-4012-3672-4
Cost: 49.99 USA $ 58.00 in Canada
Review by Allen Klingelhoets
Jamza Website:
jazmaonline.boards.net/
Time period is futuristic in time period when animals were altered into thinking creatures. This idea was actually developed by Jack Kirby with earlier Marvel Comics stories with High Evolutionary. In
Kamandi
stories there are gigantic grass hoppers and many other altered creatures. Some of these animals can even talk. Most Earth people are now unintelligent and slaves to animals.
Kamand
i is main character. He has no desire to follow in sub servant manner. He is always fighting for rights of freedom for himself and others. This is futuristic Earth world with some aspects of past DC Universe. Most of first 40 issues were wrote drawn and edited by Jack Kirby.
No finite answer was given in first two volumes on what happened to Earth to cause such a dramatic to civilization. Now man was at bottom of evolutionary ladder. This affecting the entire planet of Earth and now small territory. There are so many imaginative aspects making me wonder if it was some sort of nuclear accident. Area in Canada had separation of borders with dangerous nuclear radiation. One issue even described memories of day Great Disaster happened. Jack Kirby lets readers guess to actual cause of Great Disaster. Very few people at present time can talk with verbal coherent language. Animals though have ability to talk and even clothe themselves. People also wear clothes in comic. Komandi does not have any super powers. He is young white teen in mid - teens to twenties. He has long blonde hair and wears blue cut-off jeans with belt. He also wears pair of boots. He has learned much from old library files from his youth. I never really learned much about his family.
Jack Kirby took me into world of curiosities. There are three human characters that can transform into humanoid steel form by pressing palm sized button on chest. One of those characters was named Ben Boxer.
I saw strange futuristic after Great Disaster creatures in Kamandi stories. It had sort of feel for first Planet of the Apes movie with C. Heston.
Kamandi
though went way beyond that sort of movie vision. There were sharks which could fly. Not just apes with highly developed brains. The bad thing though is that Kirby DC Comics stories like The Fourth World, O.M.A.C, The Demon, The New Gods, Mr. Miracle are old comic book series. Jack Kirby issues are rather expensive for collector.
Kamandi
was created by Jack Kirby. The first 40 issues are also collected in omnibus form and also 2 volume Archive edition. The stories are all in color. I was able to read two volume series from inter-library loan service.
Volume 2 even had introduction by artist and story teller Bruce Timm.
I like how Jack Kirby even mixed in Superman's costume in issue # 29. I was left wondering in this post – apocalyptic what happened to Superman and other Super Heroes and Super Villains. I give
Kamandi
a very positive review. I hope readers have chance to give this series a try. I would suggest E-bay or even library services. I also read Devil Dinosaur and Machine Man Kirby collections when he went back to Marvel Comics after
Kamandi
.
Jack Kurtzberg was born August 28th, 1917. He was known to fans as Jack Kirby. His work in comic book industry was tremendous. He passed away in 1994. In 1987 Jack joined Will Eisner and Carl Banks as inductees into the Will Eisner Hall of Fame. Will Eisner is best known for The Spirit and Carl Banks for his comic book work on Donald Duck.
The series of
Kamandi
continued for 19 issues after Jack Kirby went back to Marvel Comics. I could not find issues 41 through 59 in collected format. The original cover Art for volume two was Jack Kirby and D. Bruce Berry. Gerry Conway wrote issues 38-40. With Jack Kirby out through all 40 issues. The story of
Kamandi
is in sequential calendar like format not in random disjointed order. The issues formed one gigantic jigsaw puzzle with interlocking pieces fitting story together.
I could talk about other Jack Kirby works.
I just wanted though to review
Kamandi
at this time.
Jack Kirby is known for good reason to fans as Jack "
The King
" Kirby.
Allen Klingelhoets