Post by richardvasseur on Jun 14, 2018 21:52:22 GMT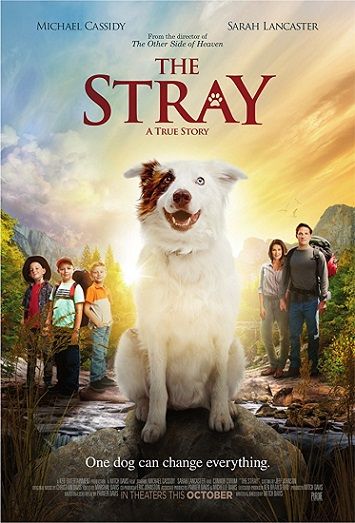 Movie Review: The Stray
Director: Mitch Davis
Writers: Mitch Davis, Parker Davis
Stars: Michael Cassidy, Sarah Lancaster, Connor Corum
Type of movie: Spiritual. Also, true story
Time: one hour 28 minutes
Rating: PG
Allen Klingelhoets
Back cover states:The story tells the true story of a dog who saves a struggling family in more ways than one.
"Pluto" comes out of nowhere and quickly makes himself home with the Davis family, who are on the brink of falling apart. The last thing they need is another mouth to feed. Or is it? In just a short time, Pluto the "wonder dog" manages to save a lost toddler, bring comfort and companionship to a hurting nine-year old boy, help restore a marriage and repair a broken father-son relationship. Pluto is not only a guard dog- he's a guardian angel.
Sometimes help comes from the most unlikely places. Sometimes our prayers get answered in strange ways. Sometimes one dog can change everything.
Allen notes: This is modern day story with settings between start in California to move to Colorado. I felt very heart felt story made even more powerful since real life Dog Pluto and family movie was based on were shown in closing credits. This is story about family that had been broken due to money and very little communication between each other. The daughter wanted a dog. The father stated if a stray appears they could have dog. A little while later the nine year old son Christian Davis finds stray dog which is quickly adopted by family. The dog soon puts himself into family by rescuing Davis family two year old daughter when she wondered away from California home. The Davis family make decisions. They decide to move to Colorado and Father (Mitch Davis) decides to write screenplays instead of having job reading other peoples screen plays. He decides with encouragement from his wife to follow dream of writing for himself.
The family grows stronger and even begins to pray. The father begins to recognize that he is just a small cog in universe. He has one scene that looks into night Colorado rural Mountain sky. He sees many stars. He remarks to Pluto about his place in universe. He could not be aware of this when working at job in California.Pluto became very important part of family. It was never said where he came from.
This movie was not filled with Special Effects. It was filled with way "Pluto" brought a family breaking apart into very strong unit. I was really moved by what happened to Pluto in story. I think Pluto needed family as much as they needed him. Maybe he was a guardian angel.
The movie closes with Mitch Davis starting on computer story of The Stray. It was also very personal story with the real Mitch Davis being one of the actual writers of "The Stray" movie.
www.imdb.com/title/tt5342904/
Allen Klingelhoets