Post by richardvasseur on Jun 21, 2018 21:49:12 GMT
Eryk Donovan
Artist for All We Ever Wanted
Publisher A Wave Blue World
Interviewed by: Richard Vasseur
Posted: 21/06/2018
Rich:
Why did you want to be a part of the anthology "All We Ever Wanted"?
Eryk:
It seems like a fun anthology, lots of great teams, and I'll get to make a cool, lighthearted SCI-FI story with some pals!
Rich:
What is your story about and what is its title?
Eryk:
I'm not going to spoil it, but it's about making grand gestures for someone you love, even if it's to accomplish something relatively inconsequential.
Rich:
What characteristics does your art bring out in the main character?
Eryk:
It'll feature some badass, cute, cyberpunk ladies, so yeah, totally my aesthetic.
Rich:
Would you like to do more anthologies?
Eryk:
I like to do an anthology every year or two when I have time, but no more than that really. Its a good break from long form work and fun to work with people you like on something small and fun.
Rich:
Did you have fun illustrating "Eugenic" from BOOM! Studios?
Eryk:
Absolutely, it's some of my favorite work!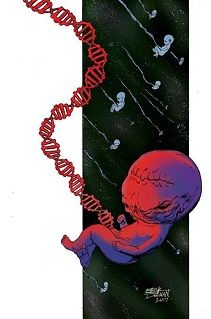 Rich:
How did you come up with the look for the future humans?
Eryk:
Lots of conceptualizing and presketching, but ultimately a lot of fun and imagination! Drawing comics is great since you aren't constrained by reality.
Rich:
How was "Gotham City Garage" different than other Batman books?
Eryk:
GCG was a really special project, and it was a focus on Kara (Supergirl) and a bunch of the other female heroes and villians, set in an awesome post apocalyptic Mad Max type world. Something really special and cool about that. Definitely one of the most imaginative and fun elseworlds style takes I've seen in a long time!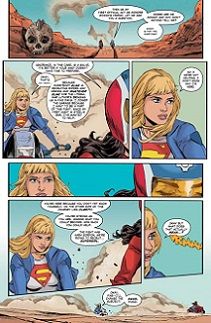 Rich:
What personality did your art give to Constantine and what did it add that others did not?
Eryk:
I think one of the best things I was able to bring was to the soft quiet moments, especially between John and Oliver, and the moody ending. I like those still quiet moments as much as I like the crazy action scenes. I also think I did a great magical job with the Act 3 climax.
Rich:
Why should someone pick up "Quantum Teens Are Go"?
Eryk:
If you want a purely fun YA adventure drama featuring scifi weirdness and fun characters, with some crazy art by yours truly, I think you should check it out!
Rich:
Did it take a lot of hard work to get to the level you are at in drawing or did it come naturally?
Eryk:
Always work. Constant focus and drive. I still have a ways to go I think.
Rich:
Which artists do you most admire?
Eryk:
Bill Watterson, Sergio Toppi, and NC Wyeth (especially Treasure Island) are some that I can always look at and love. There's plenty of friends, peers, and contemporaries who inspire me everyday.
Rich:
What is something about you few people know?
Eryk:
If I said, they'd all know wouldn't they!?

Rich:
What would you like to say to all those who enjoy your work?
Eryk:
Thank you! Your support is everything, and I'm glad you enjoy.
Richard Vasseur