Post by richardvasseur on Jul 12, 2018 14:19:08 GMT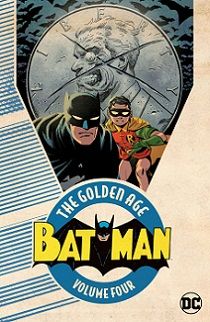 Batman: The Golden Age volumes # 1-4
Published by: DC Comics in 2018
Cost: $ 29.99 United States, $ 39.99 Canada
ISBN 781 401 277581
Color
Page count: 384 pages in each volume
Contains: Golden Age stories from Batman 1-15, Detective Comics # 27-74, and World's Finest Comics # 1-9
Reviewed by: Allen Klingelhoets
Volume # 1 contains Bat Man's origin. This volume also includes how Bat Man and Robin came together as team. I got to read how Bruce Wayne became mentor to the young teenager Dick Grayson. It was interesting to see first Bat plane and Bat Mobile. Batman and Robin even communicated with short wave radios. This was high technology for 1940's. Bruce Wayne (Bat Man) and Dick Grayson (Robin) became a great team fighting injustice and crime. They also fought many villains like The Penguin, Scare Crow, The Joker, Two Face, and even an early version of Cat Woman. I liked how Bat Man used detective skills to solve many crimes. He even had utility belt. He used nylon robe to get from building to building. He trained with Robin to have tremendous athletic skills to fight criminals. Bat Man was not like Superman. Bat Man could be injured and hurt by bullets or even by being hit in head. His body was very human. The stories in these volumes are from 1939 Detective Comics # 27 to spring 1943. There are scenes with Bat Signal, Police Chief Gordon is in issues right from Detective Comics # 27. The entire issues of all issues were not reprinted. Most stories reprinted were only 13 pages long. There were multiple stories though reprinted in Bat Man issues. Bob Kane and Bill Finger created Bat Man in Detective Comics # 27.
Bob Kane drew stories in future issues with help of artists Jack Burley, Jerry Robinson, and George Roussos. Not all of the writers and artists were given credit in old time comic books. Some of the writers were Bill Finger, Don Cameron, Joseph Greene, Joe Samachson, and Jack Schiff. The stories happened in to World War II years. Issue # 12 of Bat Man even showed Bat Man and Robin in United States Army jeep asking readers to buy war bonds and stamps.
I think some of my favorite stories were "Prescription for Happiness" in issue # 14 of Bat Man and "The Boy Who Wanted to be Robin!" in issue # 15 of Bat Man. It is also amazing to note that all of early issues of Detective Comics only cost a dime. There were some 96 page issues which contained Bat Man stories that sold for 15 cents.
These volumes were in very early years of DC Comics. I noticed that Superman was more in later World's Finest comic books. There is not an introduction text. Volumes do give history of when each original issue was released for publication. These volumes give interesting history of early years of Bat Man stories. This was before Alfred was family butler. I even liked seeing map of Bat cave with secret elevator to Wayne home. This was shown in issue # 12 of Bat Man. I think young adult to adult reading level. The volumes are soft cover.
Allen Klingelhoets