Post by richardvasseur on Jul 18, 2018 20:40:58 GMT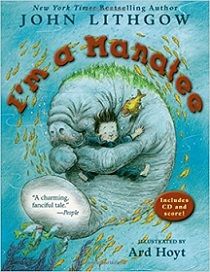 Title: I'm a Manatee
Author: John Lithgow
Illustrated by: Ard Hoyt
Includes CD of John Lithgow reading story and music score. I'm a Manatee".
Copy write 2003
Simon and Schuster books for young readers.
Reviewed by: Allen Klingelhoets
This is a modern day story about a young boy that dreams he is a manatee. The story like most other John Lithgow children's books is in rhyme. The boy dreams that he has the dietary habits of a manatee. He sprinkles sea weed in his Raisin Bran- ate, he never fails to lick his platter clean. The perfect manatee cuisine. No one will hear him use profanity his a manatee has his image to maintain. The story also has a twist of some where a manatee is dreaming of him.
This is a very short 26 page story for children around 4 to 8. I doubt if even 300 words of text. I noticed John Lithgow was even drawn into one of closing pages on boy's book shelf. The book ends with two pages of song lyrics of "I'm a Manatee" with lyrics by John Lithgow and music by Bill Elliot. The hard cover book that I got from library was missing CD. I suppose could find on internet.
song lyrics.
www.lyricsmode.com/lyrics/j/john_lithgow/im_a_manatee.html
John Lithgow - I'm A Manatee lyrics | LyricsMode.com
www.lyricsmode.com
I'm A Manatee lyrics by John Lithgow: From time to time I dream that I'm a manatee / Undulating underneath the sea / Unshackled by the
ISBN # 9-780689 – 854279
Cost at time of publication: 17.95 US, 28.50 Canada.
Here is what is really encouraging about Manatee picture book. Simon and Schuster Children's Publishing and I'm a Manatee are proud supporters of Save the Manatee Club. A membership based non - profit organization with the mission to save the endangered manatees and there habitat. For more information call 1-800-432-join (5646) or visit.
www.savethemanatee.org
Homepage - Save the Manatee Club
www.savethemanatee.org
Our mission is to protect manatees and their aquatic habitat for future generations.
Allen Klingelhoets