Post by richardvasseur on Jul 19, 2018 18:07:59 GMT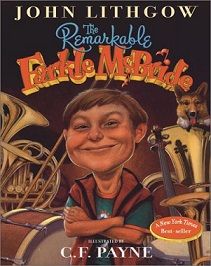 Title:
The Remarkable
Farkle McBride
Type of story: 2000 published 37 page picture book
Author: John Lithgow
Artist C. F. Payne
Publisher: Simon & Schuster Books for Young Readers
Review by: Allen Klingelhoets
This is a very quick reading children's book for ages 3-10. It is told in present time tense. The story involves a child musical prodigy named Farkle McBride. No matter what instrument he tried he soon grew bored even though he was excellent playing instruments. He tried violin at age three. He played remarkable for his age. He even played violin music with other older musicians. John Lithgow even he went Reedle-. De
Deedle-ee
Deedle-ee Dee
The problem was no matter how many people appreciated Farkle's violin playing child got bored with playing violin. When he was four he did not want to play violin no more. He through the fiddle and bow to his living room floor. As he shouted, "Enough of your screeching!" He stopped playing violin even though his parents protested that he take up playing again. When he was five he took up the flute. The woodwinds inspired his spirits to lift and he quickly mastered the flute. He again played with musical orchestra and he went
Rootle-ee
Tootle-ee
Tootle-ee Too
With other musical instruments called wind section by his side. Farkle Mcbride again was a remarkable child musical prodigy. But by the age of six he also had enough of playing flute. "That's it!" he exclaimed. "I had all I can take! That tooting gives me a brutal headache! It's so wimpy and whiny and shrill!"
When he was seven he tried the trombone. He quickly like with flute and violin mastered instrument and became a remarkable trombonist. He again played music but with brass section by his side. He went Vroom - pety
Doom - pety
Doom - pety Doom
With the brass section making own musical sounds. Farkle McBride again was a child music prodigy. Farkle soon again at age of eight grew bored of being trombonist. He soon despised trombone like all earlier instruments.
At age of nine he learned xylophone, cymbals, and drum. He was the entire percussion section. How things are resolved is very interesting. Will Farkle find true happiness? I guess have to read picture book to find out. The end four page gate fold shows amazing scene by C.F. Payne.
ISBN: 9-780689-833403
There are many options to get The remarkable Farkle McBride. I found many options online. I also suggest library since this picture book was published in 2000.
Allen Klingelhoets