Post by richardvasseur on Aug 1, 2018 13:18:19 GMT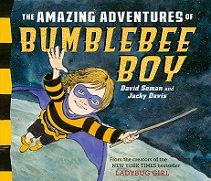 Book Review name:
The Amazing Adventures of Bumblebee Boy
Authors: Jacky Davis and David Soman
Pictures illustrated by: David Soman
Publisher: Dial Books for Young Readers an imprint of Penguin Group (USA) INC.
Publication date: 2017
ISBN: 978-08037-3418-0
Cost: 16.00 U.S. / $ 19.50 Canada
Reviewed by: Allen Klingelhoets
I found this book in children's section in library. It is fictional story about two brothers that like to play games of imagination. Sam is about 8 and his brother Owen is about 4. Sam dresses up in costume with mask and pretends to be superhero Bumblebee Boy. He never really lets his brother participate in imaginary adventures. Sam sometimes pretends he is fighting pirates or Fire Dragon. His brother always wants to play games. Owen does not get to play in adventures. Bumblebee does not want sidekick. His brother Owen even dons a cape to try to get involved with battles like even fighting giant Saber-toothed Lion. The lion turns out to be family pet cat named Rhubarb. The imagination of Sam becomes more diverse. He even imagines chasing bank robbers using car called Beemobile. The bank robbers are captured by another car driven by car that cuts them off. Who do you think was in other car but Owen. He made his car out of empty box made in size for child. Sam does not still want to have Owen as side-kick. It was not until Sam pretended to go to Moon. Bumblebee Boy is attempted to be captured by scary aliens. It was at that time Sam decided needed to be in aid of side-kick.
Sam learned that he liked to play Bumblebee Boy alone. He also learned that it was more fun to play with his younger brother.
This is 32 page story.
The authors are also the creators of Ladybug Girl series which was a New York Times bestseller series. This story is told as modern time story. I think story tries to teach values of cooperating with others brings added fun to life.
David Soman and Jacky Davis books are inspired by their own family experiences. They are husband and wife team. The characters from Bumblebee Boy were first introduced in: "Bumblebee Loves...." book
Find more at:
www.bumblebeeboybook.com
Bumblebee Boy
www.bumblebeeboybook.com
Dial Books | A division of Penguin Group (USA) Copyright 2011 Penguin Group (USA), All rights reserved. Terms of Use Privacy Policy Privacy Policy
The summery state: As imaginary superhero Bumblebee Boy, Sam rejects his pesky little brother's help in defeating pirates, pirates and saber-toothed lions, but when Sam comes up against some scary aliens, he discovers the advantage of having a sidekick.
Allen Klingelhoets