Post by richardvasseur on Aug 14, 2018 13:50:17 GMT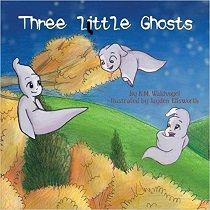 Children's Book title: Three Little Ghosts
Author: K. M. Waldvogel
Illustrated by: Jayden Ellsworth
Published by: Orange Hat Publishing | Waukesha, WI
www.orangehatpublishing.com
Orange Hat Publishing is a full-service publishing company. We create distinctive books from all genres including children's books, early reader books, YA books, and full-length novels, poetry, and many more!
Publication date: 2017
Reviewed by: Allen Klingelhoets
Three Little ghosts is a children's Halloween story told in rhyme. The dedication page says: to Anna, Sam, Sophie, and Will. Your laughs, giggles, and excitement over Halloween inspired this book.
The book is only 26 pages long with about 300 words of text. It is a story about three ghosts getting ready for traditional time of scaring trick - or - treaters during night time festivity. One of the ghosts decides it would be more fun to participate with just being part of night time fun and not scare anyone. No one would expect that they were ghosts because of all the kids wearing costumes. They got to listen into all the Halloween stories and go to houses and see way kids had fun getting candy. They would look in windows and see all the fun in houses. Maybe someone was watching a scary movie like "Dracula" or movie" Frankenstein". The Moon was bright and full in night time sky. The ghosts decided it to laugh and giggle the way children do. They were tired of always saying "Boo!"
The ghosts shared there treats with other kids and had happy times not scaring anyone like in other years. The ghosts did this in suburban neighborhood in an unidentified town. The setting seemed to be present time. When all the kids had gone home to families the ghosts echoed their voices through the night, "Happy Halloween!"
This was a rather charming book with many full page illustrations in full color. I even found a black cat drawn into many of pages of art. The leaves were even drawn on trees to be in fall colors. This was a fun book to read. I think would be great book for children during Halloween season.
The book costs $9.99
ISBN 978-1-943331-73-4
I got my copy through library loan service. This is the author's first book. She is a retired Barron Wisconsin Area , middle school teacher. Mrs. Waldvogel has been writing since the fourth grade when her teacher encouraged students to write and be creative.
The back cover states:
Three little ghosts huddle together to plan a
Special Halloween night. Will they spook and
scare like usual? Or will they decide it's time
for a change? Follow these three little ghosts on their
quest for a Happy Halloween adventure!
Allen Klingelhoets