Post by richardvasseur on Sept 26, 2018 13:29:28 GMT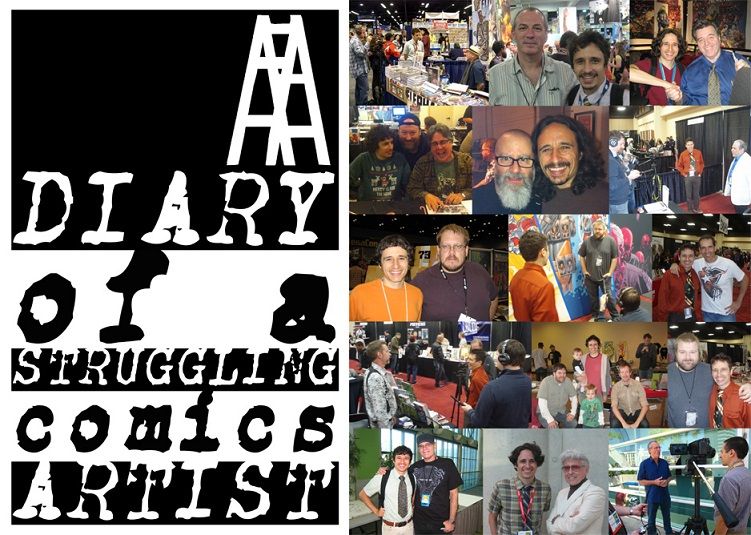 Interview with:
Chris Wisnia
Interviewer for documentary: Diary of a Struggling Comics Artist
Interviews from: 2011 – 2015
Interviewed by:
Allen Klingelhoets
www.jazmaonline.boards.net
Teaser:
www.patreon.com/posts/diary-of-comics-18594412
Trailer:
www.patreon.com/posts/trailer-for-my-18666940
Allen:
Welcome to Jazma Online, Chris Wisnia.
Chris Wisnia:
Thanks, Allen.
Allen:
Tell me a little bit about yourself. What are some of your earliest memories reading comic books?

Chris Wisnia:
I have a few. This one was definitely the most profound memory, and most important experience. I was at a grocery store with my mom, maybe mid-1970's, and I saw these Marvel pocketbook comics collections that reprinted the classic Stan Lee/Steve Ditko Spider-Man issues. The 1960's cartoons were just getting syndicated in the afternoons, so Spider-Man was on my mind, and my Mom saw my interest in these books and offered to buy me one, so I picked out the third volume, which contained Spider-Man 14-21. The first story in it was the first appearance of the Green Goblin.
Allen:
What were some of your favorite comic book series?
Chris Wisnia:
As a kid, I liked the super hero stuff. In college, I liked Alan Moore and Mike Mignola and Mike Allred and Grant Morrison. As a dad, I enjoy reading the classic super hero stories to my kids.
Allen:
Did you ever try to write or draw comic book stories?
Chris Wisnia:
Yes, I do both. I'm an indie comics creator, and I've been publishing work since 2004. Writing and drawing, and sometimes publishing.
Allen:
How did you get involved with comic book publishers?
Chris Wisnia:
I self-published for a number of years, and just got to know people in the industry. Going to cons, sending in submissions. I checked in with them to show them what I was working on, and eventually they picked which projects they thought they would be interested in doing with me.
Allen:
Did you work for any comic book related magazines like Wizard or maybe even comic book websites?
Chris Wisnia:
No, until this documentary, I was always on the creation side of comics, not the journalism or critique side of it.
Allen:
Tell me how you got the idea to do your documentary: Diary of a Struggling Comics Artist? Also, tell me what you are attempting to accomplish with this documentary.
Chris Wisnia:
We tried to kind of sum up the answer to this question in two different ways, with our teaser tabloia.com/blog/archives/1008 and our trailer
tabloia.com/blog/archives/1019
. I was thinking a lot about the difficulties of getting into the comics industry, and making it in the comics industry. My own personal experiences, but also over all these years, I've gotten to know a lot of the creators, and we've all shared stories of all our different experiences, depending on decisions we've made and how we'd like our careers to go. I felt that very few documentaries about comics bring up these kinds of issues about the struggles and difficulties of trying to make this lifestyle a reality. I had a friend from college, Dan Hart, who is not involved in comics at all - doesn't even read them, but at the time he was going through some transitions in his life, and he had a camera and some free time to join me, so we started going to conventions and asking artists to share some of their stories about their own personal struggles. And more of my friends started joining to help us film, because they agreed it was a good perspective to share and get out there for people to see.
Allen:
How have you developed such close relationships with artists like NEAL ADAMS, MIKE ALLRED, SERGIO ARAGONES, DICK AYERS, LEE BERMEJO, TIM BRADSTREET, JEFFREY BROWN, HOWARD CHAYKIN, KEVIN EASTMAN, STEVE ENGLEHART, RAMONA FRADON, FRANK CHO, DAVE GIBBONS, RUSS HEATH, THE HERNANDEZ BROTHERS, ADAM HUGHES, THOMAS JANE, KELLEY JONES, SAM KIETH, ROBERT KIRKMAN, MICHAEL LARK, ERIK LARSEN, VINCENT LOCKE, DAVID MACK, TODD McFARLANE, TONY MILLIONAIRE, TERRY MOORE, STEVE NILES, KEVIN NOWLAN, JAMES O'BARR, ERIC POWELL, NATE POWELL, FRANK QUITELY, PAULO RIVERA, JOHNNY RYAN, MARK SCHULTZ, SCOTT SHAW, BILL SIENKIEWICZ, STEVEN T. SEAGLE, LIAM SHARP, RYAN SOOK, JIM STARILN, JIM STERANKO, WILLIAM STOUT, JILL THOMPSON, ADRIAN TOMINE, ROY THOMAS, HERB TRIMPE, TIM VIGIL, MATT WAGNER, JIM VALENTINO, MARK WAID, SHANNON WHEELER, and J.H. WILLIAMS III, to name just a few.
Chris Wisnia:
That's a lot of artists! Shall I tell a story about each? Just kidding. Like I said, over the years of being on the comics scene, I've spent so much time at conventions, or after conventions at bars, or on email, or on Facebook, just getting to know a lot of artists. I know a lot of these guys better than others. But the list above showcases the people whose paths I was able to cross with for the four years we were shooting all our footage. Not all of them knew me before we filmed, but they were kind enough to give me their time just the same.
Allen:
How many conventions do you go to each year to do interviews? Do you prefer doing interviews person to person or through questions sent to person?
Chris Wisnia:
All the interviews have been person-to-person, as we were able to catch them. That way we could get the video footage. All the interviews were relatively near by, "local" shows for me. I live in Davis CA, which is near Sacramento, and then I flew down to a few San Diego Comic-Cons as well. I was maybe doing a half dozen a year for the filming. We've technically capped the interviews, because we have so much footage, but that said, I've done a few since then.
Allen:
Who is a person that you really wish could have interviewed for your documentary?
Chris Wisnia:
I had gotten in touch with Al Feldstein about interviewing him for a San Diego Comic-Con that he was scheduled to attend. In his email, he said he wasn't doing so well and might need to cancel the show. And then he didn't make it, and shortly after I heard he had passed away.
I was also at a show with Darwyn Cooke and hoping to interview him. I saw him outside the hall taking a smoke break. I tried to approach him, but he was out there because he needed a break from his fans, and I felt so intimidated for some reason that I clammed up and didn't try and ask him for an interview for the rest of the show. And now he's passed away too.
There are a number of people whom I've asked and with whom I'd love to have gotten an interview, some of whom I know pretty well, who have either been unable to schedule something, or who have declined letting me interview them. Mike Mignola, Jae Lee, Daniel Clowes, Brian K. Vaughan, Larry Lieber (Stan Lee's brother), Jhonen Vasquez, Trina Robbins, Brian Azzarello. I'm sure there are others I've forgotten.
Allen:
How do you plan on distributing the documentary?
Chris Wisnia:
That feels like such a long way off at this point. We have so much footage, it's been really daunting. We decided to just take it one step at a time, and start by editing single clips, about 2-5 minutes each, to post at my website
www.tabloia.com
and Youtube. We figure after a year of this, we'll have enough clips to start seeing what this is shaping up to be. When we do get to a finished product, I like the idea of showing it at comics conventions. But until then, we've posted a dozen or so clips, and add new ones every week.
Allen:
Have you ever created any other documentaries?
Chris Wisnia:
No, I'm not a film guy at all. I'm a comics guy.
Allen:
What other things related to comic books are you involved with?

Chris Wisnia:
I'm just writing and drawing whenever I get the chance. This documentary was a real step out from that.
Allen:
Who art some of your personal favorite Golden Age artists?
Chris Wisnia:
I don't gravitate as much toward the Golden Age work as the silver age, but I really like Mac Raboy. I like the old Creig Flessel Sandman comics, E.E. Hibbard's Flash. I've been reading Milton Canniff's Terry and the Pirates with my kids. I also really enjoy Chester Gould's Dick Tracy strip, and love the simple art of Joe Shuster in the original Superman comics.
Allen:
Do you also work with creators that work on comic book related television shows or theater shows?
Chris Wisnia:
No, I haven't, but we interviewed a few people whose work has spread into film, television, and theater.
Allen:
Have you worked with a group of individuals to film your documentary?
Chris Wisnia:
Yes, it started with my friend, Dan, and we realized that if we could have other hands with us, to help with sound and stuff, so I recruited whatever friends I could get weekend to weekend, depending on who's available. There are a few interviews that my friends conducted without me, when I was unable to attend shows. And I really wanted to get Dick Ayers on camera, because he'd done some work for some of my comic books, but I'm near Sacramento CA, and he's in New York. So a friend put me in touch with Anthony Desiato, a comics documentary guy in New York, who was able to film Dick out there for me.
Allen:
What kinds of comic books do you like to read at the present time?
Chris Wisnia:
Oh, boy, I have so little time for reading comics these days, because I have a family and a day job. Most of my "reading" is listening to audiobooks while I draw, and you can't do that with comics. But that said, I sat next to Derf Backderf a year or so ago at a con, and I absoluetly LOVED his comic, My Friend Dahmer. And I thought they made a great film of it as well.
Allen:
What is the best way to see information about your documentary?
Chris Wisnia:
I post a new clip every week at the blog of my website, which is
www.tabloia.com
. All the videos I've posted are listed with links at
www.tabloia.com/blog/archives/1150
Allen:
What is the best way to contact you?
Chris Wisnia:
My email is cwisnia@tabloia.com. I'm also on Facebook and Twitter.
Allen:
What are some other projects you are planning comic book wise?
Chris Wisnia:
For over ten years, I've been doing a tribute/homage/parody of Jack Kirby's Giant Monster Comics, called Doris Danger. I'm just finishing up a third volume of her stories that will be about 150 pages. I've posted lots of free sneak peeks of it at
www.patreon.com/chriswisnia
, as well as on Facebook and Twitter. I'm also working on a project called Brush with Peril, where I take famous museum paintings and make them characters and settings in a James Bond style spy epic.
Allen:
What are some of your hobbies?
Chris Wisnia:
I play guitar. I love watching movies and listening to music.
Allen:
What more would you like to tell people about your documentary? Also, is this an all age group documentary?
Chris Wisnia:
There's some language in the interviews, depending on who is speaking, but otherwise it's just people talking. I don't know how much interest younger viewers would have in the subject matter, because we don't discuss super heroes or making art, or the creative process. It's all about struggles everyone has had trying to get into the industry, find work from month to month to pay their rent or credit card bills, day jobs we've had, including other art jobs because comics don't usually pay as much as story boarding or design, for example. Things like that.
Allen:
Would you like to end with any closing thoughts?
Chris Wisnia:
I think whether you're into comics or not, a lot of people can relate to the struggles comics artists are going through to be in an industry that we hold so dear. Because everyone has their struggles that they deal with in whatever they're doing. Artists don't necessarily get paid much, we don't get a lot of recognition or even respect, we don't have health or retirement benefits, but we still choose to pursue this career, out of love for the medium. So it's kind of an American Dream story. I've been working on this project for going on ten years, and there are a lot of interesting, revealing, funny, depressing, hopeful, heartfelt, honest interviews, so I hope you take the time to listen to some of these, and enjoy them. And maybe the next time you're at a comics convention, or online, you'll have a different, more sympathetic understanding of the amount of work and time and money and stress that artists devote to creating their craft. If you get enjoyment out of the work artists have made, maybe instead of haggling for a deal, you could show your appreciation by supporting them.
Allen:
Thank you Chris for working on this interview with me for Jazma.
Chris Wisnia:
Thank you, Allen, for taking time to talk about all this with me.



Allen Klingelhoets