Post by richardvasseur on Jun 19, 2020 17:21:01 GMT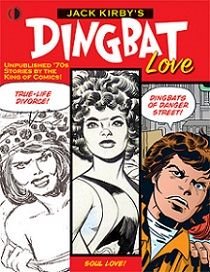 Title: Jack Kirby's Dingbat Love (HC)
Publisher: TwoMorrows Publishing
Compiled, written, designed, and edited by JOHN MORROW
with the invaluable input and writing talents of MARK EVANIER, STEVE SHERMAN, and JERRY BOYD
and the tireless efforts of the JACK KIRBY MUSEUM (www.kirbymuseum.org)
Title page drawing: JACK KIRBY and VINCE COLLETTA
Soul Love #1 cover painting: ALEX ROSS after Jack Kirby
"The Cheater" 2019 inking & lettering: MIKE ROYER
Proofreading: JOHN MORROW and ROB SMENTEK
Coloring: TOM ZIUKO and GLENN WHITMORE
Price: $ 43.95 US
Rating: 4 out of 5 stars
Website:
www.twomorrows.com
Comments: Unpublished '70s Stories by the King of Comics!
"The Maid!" Don and Myra are having some marital problems and Don does not mind talking about them in front of the maid, Ingrid. The art is amazing Jack Kirby is a master at his work. The love and spark seem to have gone out of Don and Myra's marriage, they both want something different out of life. They still have respect for each other so things go on as they part company. The one has a passion for life the other for work.
"The Twin!" Edna's identical twin sister Charlotte arrives and Harry Edna's husband is seeing double. Harry likes his quiet life and having a wild version of his wife suddenly added to his life is more than Harry can take. Things do finally settle down after a explosive confrontation.
"The Model!" Chris a model and a very beautiful and loving wife to Raymond is being ignored by him. Chris does what she feels is best for them. She is right and she is a loving mother who places her baby girl above all else. Raymond is a stuck up idiot who at least remembers his obligations as a father. It is sad though that Raymond loses so much and he does not even care.
"The Other Woman!" Arnold and Jess and Evelyn these three do have a get together. The story wants you to believe one thing while another thing is happening. The trying to mislead the reader does not work. The art though is gorgeously done.
"The Cheater!" Fred and Janet are a married couple and yes they do have problems. Fred loves his wife and she loves him and that is what matters most.
"Go-Go Girl!" Buffy and Harry do find each other and you can tell they are meant to be. The art is gorgeous. Everyone is illustrated with a strong presence.
"Diary of the Disappointed Doll!" Abby gets computer matched with Leroy. Charlie the real computer date for Abby finally shows up. The date goes much better with Charlie there.
"Dedicated Nurse!" Matt has medical problems and a wonderful nurse Aleda. There is a romance going on with Aleda and Matt's son Slater. Sometimes all a man needs is a good woman to give him a little push. It is nice to see a happy ending for all.
"Old Fires!" Cleve and Carla looks like they were meant to be after a few hardships. Love is strong.
"The Teacher!" Marny a teacher wants to help Larry with his novel. Who is who gets a bit hard to follow in the later part of this story. Things get changed around for no real reason. The teacher is a cutie.
"Dingbats of Danger St." The main characters names are Good Looks, Krunch, Non-Fat and Bananas. They are different. The story itself is hard to follow. The art is just beautiful to behold.
"The Dingbats of Danger St." So many interesting characters in this story. We see Krunch in a dangerous situation. He shows a fighting spirit. Krunch is illustrated putting up one hell of a fight.
Jack Kirby was truly the "King."
Richard Vasseur