Post by richardvasseur on Mar 6, 2018 22:21:57 GMT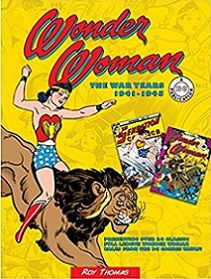 Graphic Novel review name: Wonder Woman: The War Years 1941-1945
Editor: Roy Thomas and person that compiled stories
Published by: Chartwell Books with permission and special arrangement of DC Comics
Presenting over 20 classic Wonder Woman tales from the DC Comics vault in hard cover color format
Price: $ 24.99 US
Reviewed by: Allen Klingelhoets
I got idea for reading older Wonder Woman stories after watching recent DVD about heroine. Roy Thomas went into DC vault and found Wonder Woman's origin issue All Star comics # 8 from December 1941-Jan. 1942. The script was by William Moulton Marston and the art was done by H.G. Peter. Marston was secret name for Dr. Charles Moulton Marston. Marston published under the pen name using a combination of his and M.C. Gaines middle names. The stories told are during Second World War.
I got to read how Steve Trevor crash landed plane on Paradise Island. This was hidden island not visited by any man. It was island with Amazon women. This was also shown in Wonder Woman 2017 movie. It showed how Wonder Woman first earned right to go to America from Paradise Island with Steve Trevor. She kept her secret identity. She got her own comic few months later in Sensation Comics # 1. She always worked close with Steve. It was shown how when in America got to work as nurse by assuming another female nurses identity. Later she worked as secretary in war department where Steve was stationed. Wonder Woman fell in love with Steve Trevor .
Wonder Woman had incredible strength and beauty. She had speed of Mercury and was stronger than Hercules. She fought against opposing Axis groups during Second World War. She was Diana Prince as alter ego. She quickly changed to Wonder Woman in time of crisis. She could stop bullets with bracelets on wrists. She had very patriotic red white and blue costume. She could fly with invisible air plane. She also had wisdom of Athena. I liked use of magic lasso to get people to tell truth.
I liked character Etta Candy that was character in Wonder Woman stories. I liked how there was some sort of television back than that would link Etta Candy and girls from college, Steve Trevor, and Wonder Woman. Now that would be cell phone or computer.
There were stories showing Mars God of War. Greed, Deception, Conquest forces of evil were also in Wonder Woman # 2 (Fall 1942).
There were other characters attempting to defeat Wonder Woman like Doctor Psycho.
There were also weaknesses shown like if man chained Wonder Woman by bracelets she would lose her powers.
Wonder Woman became very popular. Roy Thomas explained this in editorial sections. I also liked how shown how like Superman she was shown helping out attempting to get people interested in buying stamps and war bonds. I also noticed this in Batman: The War Years 1939-1945 graphic novel.
There are 302 pages in Wonder Woman graphic novel. This is close to same amount for Batman and Superman: The War Years books. Costs vary. My best suggestion would be to order off Amazon. I even appreciated ads that were put in Wonder Woman graphic novel. They were from early 1940's. I saw ad for even paper shortage. It is amazing any old comics even exist with paper shortages. I am glad just to be able to read some of older issues without having to pay dealer price for issues. The story of Wonder Woman is not first woman female lead character. She is though one of bright lasting fictional characters from Golden Age of comics. She has been in comic book form since 1941.
There was even an ad to join Junior Justice Society of America for 15 cents.
I give graphic novel very high marks like 4 stars out of four. It is young adult to adult type of material.
Book ISBN is 978-07858-3284-3
I really enjoyed work that Roy Thomas did putting together Wonder Woman graphic novel. He was elected to comics' Eisner Hall of Fame at the 2011 San Diego Comic-Book Con.
I also liked that many full page covers were in graphic novel relating to Wonder Woman vault issues.
The last page was of All Star Comics # 27. Wonder Woman and other Justice Society members of America were shown saluting an Army veteran who had lost right arm. This was in Winter 1945 issue. Wonder Woman was in back ground also saluting officer who was in army uniform.
Issues back in time shown in graphic novel were only 10 cents. All Star Comics # 27 was a 52 page magazine for only 10 cents.
I felt lucky to find Wonder Woman graphic novel through inter-library loan. I am presently reading third graphic novel in series about Batman.
To give firm grip on Wonder Woman. She is as beautiful as Aphrodite, Strong as Hercules, and swift as Mercury. She fights ever fearlessly to conquer evil and create permanent peace and happiness in the world. She won her way from Paradise Island secret home of the Amazons. Hope she is around for many years in future.
Allen Klingelhoets