Post by richardvasseur on May 10, 2018 22:06:23 GMT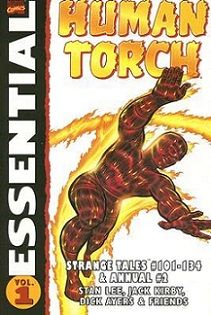 Review: Marvel Essential "Human Torch"
Publisher: Marvel Comics
Reprinting older Marvel Comic stories in graphic novel format
Strange Tales 101-134 and Annual # 1 (1962-1965)
Genre: fantasy and super heroes
Reviewed by: Allen Klingelhoets
jazmaonline.boards.net/
The graphic novel that I just finished reading was Human Torch. This is Torch from The Fantastic Four not Professor Horton android Torch or Toro from Golden Age of comics. Strange Tales reprints issues # 101-134 & annual # 1 Essential Volume 1. This was during early 1960's Silver Age of Marvel Comics. 1962-1965. First printing of Essential volume was in 2003. Stan Lee wrote and Jack Kirby drew most of the stories. I enjoyed seeing characters of Marvel in early stages of history of Silver Age. The comics first only cost 12 cents each. Larry Lieber, Robert Bernstein, Ernie Hart, Jerry Siegel and Larry Ivie also contributed scripts for Human Torch stories. Jerry Siegel wrote under name Joe carter for Strange Tales # 112 and 113. He was co-creator of Superman. Dick Ayers, Carl Burgos, and Bob Powell were some of the pencilers. Carl Burgos was artist for Golden Age Human Torch. I enjoyed reading reprint issues even though in black and white format. I think about 500 pages in volume. I got to read stories with Prince Namor and the Human Torch in battle. There were conflicts with The Wizard, The Torrid Twosome, Paste – Pot Pete, The EEL, The Puppet Master, The Plantman, The Sandman and many other villains.
My favorite story though was Strange Tales # 114. It was a story told before Avengers # 4 return of Captain America. The story had The Human Torch meeting Captain America. The story ended up posing question to readers to write in letters if wanted to see Captain America return to present 1960's comic book form. There were also stories involving meetings with youthful teen-age Spider-man. The X-Men even were mentioned in another story. The Iceman appeared in Strange tales # 120. Johnny Storm is the youngest member of The Fantastic Four, with the powers of incredible fire. He is a teenager in these early Strange Tales stories. The Thing and The Human Torch appeared in many issues together. There were guest appearances by Reed Richards and Sue Storm in other Strange Tales issues. There were lots of fun scenes with Johnny Storm and Ben Grimm in heated disputes. I even liked how wanted to Ben (The Thing) and Johnny (The Human Torch) wanted to not have Reed (Mr. Fantastic) as leader of team. Reed showed them why he was leader.
ISBN 0-7851-1309-6
Cost $14.99 USA, $24.00 Canada.
First Printing 2003
I got from library.
I have also been reading many older Marvel comic books in graphic novel format. I started reading Essential Marvels like The Human Torch. These were soft cover books which contained about 500 pages of stories in order they were published by Marvel Comics. I have enjoyed reading Silver Surfer, Fantastic Four, Luke Cage, Captain America, The Incredible Hulk, and even Howard the Duck. These were cheap collection of stories and sold for about 16 dollars a volume. The stories though were all in black and white. It was still reasonable way to read older stories like Fantastic Four # 1 for very little cost. I sure volumes are even more reasonable on other websites selling comic book material. I though just read volumes through library. I have really enjoyed reading older stories by Stan Lee, and many other older writers. Many of the stories that I have been reading have been from the 1960's through 1980's.
I also have been reading Marvel Masterworks. These are more expensive. The color hard cover volumes are about 50 dollars. The soft cover versions are about 30 dollars. I like seeing actual way stories like The Fantastic Four or The Uncanny X-Men were actually first shown in comic book form. There are many different stories in comic book order not story cross-over sequence. I like these collections due to fact would be very difficult to get older issues in original format. I can enjoy Marvel Masterworks without having to worry about damaging older issues.
Again, I would suggest just going to library and ordering Marvel Masterworks volumes. I have been able to read many different series at no cost to my pocketbook.
I also like that many of volumes have introductions by Stan Lee. I have even tried western series from early 1960's called "The Rawhide Kid." Stan Lee made comments that some of Rawhide Kids origins were rather similar to Spider-man. There was even a "Uncle Ben". Stan Lee commented that he forgot about this few years later when he also wrote story of Spider- Mans origin.
Marvel Masterworks contain about 10 issues per volume. Marvel Essentials contain about enough stories for 500 + pages. Both collections contain reprints of covers. The series are worth as much as want them to be valued. They are reprints of older material. I feel rather great idea to collect older stories for younger generations. I also like them for myself to read stories that might never had chance to read in my youth. Or better yet might not even been born yet to read Marvel stories from Silver Age. I think one of my favorites though to read has been The Human Torch Essential volume one. I can accept that was black and white. I was just happy to read stories. The issues of Strange Tales also included stories about Doctor Strange. Those stories though were not reprinted in "Human Torch" Essential volume one.
Allen Klingelhoets