Post by richardvasseur on Jun 14, 2018 13:29:22 GMT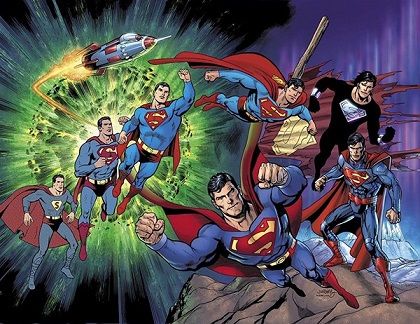 Review: Superman in Action Comics # 1000
Publisher DC Comics
Contents: 10 stories and 3 pin-up pages.
Rated: Teen
Types: One regular cover and 8 variant covers. The variants correspond to each decade of Action Comics.
Cover date: June 2018. Cost of variant is $7.99 US
Superman created by Jerry Siegel and Joe Shuster
Reviewed by Allen Klingelhoets
www.Jazmaonline.boards.net
Story one "From the City that has everything" review. Dan Jurgens writer/artist. Norm Raymond did inks. The story starts in present time with Superman battling Khund warriors by Venus. Superman battles one ship in outer space. He wins battle. Superman than takes time to come back to Metropolis to participate in festival to honor him. All the while Superman is aware that other ships in Khund armada fleet might be at any moment getting ready to attack Earth. The city of Metropolis has ceremony for Superman to honor his accomplishments. Superman takes day for celebration while all the time worried about Khund attack. The people of Metropolis had no idea about Khund possible invasion. The citizens of Metropolis gathered to honor treasured hero. Many citizens gave testimonials how Superman helped change lives. Lois lane and other surprise characters helped make celebration very special. I learned that Clark's middle name is Joseph. I pondered if Joseph was named after Joe Shuster?
I also wondered about Clark and Lois's son Jon. I was not aware they had child. There was lots of cohesive Superman characters present in first story. Maggie Sawyer, Perry White were just couple of characters pictured in "The city that has everything". Perry White made comment at Superman festival that was very truthful about Superman "When I think of Superman I think what they say about the best fighters in the world. That they always answered the bell for those of you that do not know about boxing, answering the bell means that during a fight, between rounds, when the bell rings, telling the boxers to get off their chairs and fight some more... no matter how beaten and weary they are they get up to fight."
Citizens of Metropolis and even heroes like Wonder Woman and many other heroes came to honor Superman. Some of those heroes even took time off to battle Khund warriors so Superman could enjoy festivities.
One of my favorite stories in Action # 1000 was "The Car". This story was during very early days of Superman. He was not yet recognizable as universal superhero. 5 page story was wrote by Geoff Johns and Richard Donner with art done by Oliver Coipel. Superman helps man named Butch to salvage his adult life from destructive path caused by difficult childhood. Superman helped Butch choose a righteous path.
I also enjoyed reading "Five Minutes" By Louise Simonson with art by Jerry Ordway. This was story about Clark Kent having to write a story for The Daily Planet. Perry White was pushing hard to get Clark to finish story. Clark senses dangerous situations that must be rectified before deadline for newspaper article. He manages to get away to save runaway Metropolis train. The conductor had a heart attack. Superman also saved his friend Bibbo from attempted robbery. Superman's successful attempt to save train was heard as news by Perry White. Clark hurried back to Daily Planet to finish article for Perry. He did not get chance to write original article. Clark and Jimmy Olson were sent off to get railroad train story. A construction worker was on a roof and got a picture of Superman saving train from derailment.
Many wonderful artists and writers came out and worked on issue # 100. Curt swan was artist for Marv Wolfman story called "The Enemy Within." I will talk more about this in few paragraphs.
"Never Ending Battle" story and art were by Peter J Tomas with art by Patrick Gleason.
"The Fifth Season" script was by Scott Snyder with art by Rafael Alburque.
"Of Tomorrow" was wrote by Tom King with art by Tom Mann.
"Actionland !" was wrote by Paul Dini with art by Jose Luis Garcia- Lopez.
"Faster than a Speeding Bullet" script was wrote by Brad Meltzer with art by John Cassaday.
The final story "The Truth" was wrote by Brian Michael Bendis with art by Jim Lee.
There were also three pin-up pages. The first one was penciled by John Romita Jr. with inks by Danny Mikl.
The second one was by Walter Simonson who did pencils and inks with colors by Brennan Wagner.
The third pin-up has pencils and inks, and colors by Jorge Jimenez.
The final story "The Truth" ended with lead into new 6 issue limited series called "The Man of Steel" This weekly limited series begins on May 30th, 2018 and is wrote by Brian Michael Bendis.
Over all I really appreciated effort that went into Action Comics # 1000. I liked how Lex Luthor, Ma and Pa Kent grave stone, Krypto, Mr. Mxyzptlk and many other heroes and villains made appearances throughout individual stories in Action Comics # 1000.
Dan Jurgen's must have drawn 50 heroes in one scene in story "From the City that has everything." They all were at celebration to honor Superman. I felt issue # 1000 was very rewarding to read. I bought regular version and Dan Jurgen's variant cover. Regular version was by Jim Lee, Scott Williams and Alex Sinclair.
Thank you in Heaven Jerry Siegel and Joe Shuster for creating Superman. Thank you for your persistence to bring Superman to publication at DC Comics 80 years ago. Happy birthday, Superman.
I also wanted to make special comment about "An Enemy Within" Story art by Curt Swan. Curt was one of my favorite Superman artists in 1970's. I was thrilled to see his art in Action Comics # 1000.He is one of the older Silver Age artists. I noticed his work in World's Finest: The Silver Age Batman and Robin from DC Comics which was published in 2017. Curt Swan was listed back in 1954 as doing pencils for Superman # 76 from May/June 1952 story called "The Mightiest Team in the World". This was the first time that Superman the Man of Steel teamed up with The Caped Crusader – Batman. What a true honor it is to me to have Curt Swan included in Action Comics # 1000. Curt Swan was born on February 17th, 1920 and died at age of 76 on June 17th, 1996. He won Ink Spot Award in 1984. He also won Will Eisner Award in 1997. He is now member of Will Eisner Hall of Fame.
Thank you also in Heaven Curt Swan for your work in past on Superman comics. The best way to get copy of Action Comics # 1000 is online or through local comic book shops.
There are exactly 80 pages of stories in Action Comics # 1000. Issues of Action Comics are published monthly from DC Comics. I noticed that subscription rate is 24.99 for 12 issues. I noticed this information on opening cover page. I also noticed there was a small picture of Superman holding a green car. I wondered if this was same car talked about in "The Car "story? I wondered if this was Butches car with damaged front end from Action Comics # 1?
I saw on back cover advertisement for SYFY show called Krypton. It is supposed to be on television on Wednesdays at 10/9 central.
Issue # 1000 was dedicated to Jerry Siegel and Joe Shuster. There was also homage mentioning that Super-Boy was created by Jerry Siegel. Super-Girl was based on characters created by Jerry Siegel and Joe Schuster.
Happy 80th birthday, Superman!
Allen Klingelhoets