Post by richardvasseur on Jul 18, 2018 20:45:06 GMT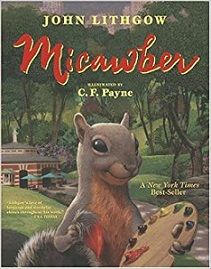 Title: Micawber
Hard cover fiction picture book
Author: Jon Lithgow
Illustrated by: C. F. Payne
Publisher: Simon and Schuster Books for young readers
ISBN: 0-689-83341-5
About 40 pages
Review by: Allen Klingelhoets
This story is about an adult squirrel named Micawber. He lives in nest above New York Central Park carousel. Micawber liked to go to museum on Fifth Avenue. This is very present time story. He would climb tree to get to museum roof. Micawber than would look through roof windows at art. He would savor wonderful works of art at his leisure. Through the roof windows he would gaze at art of Van Dyck and Van Gogh. He would give worth to Rembrandt and Titian. He would find a new favorite each time that Spring when went to museum. It was even better because no one charged him admission. He would scrutinize Rubens, peruse each Rousseau. He would inspect each Lautrec and Cassatt, and Miro.
One fall day Micawber peered through the skylight window. A lady stranger appeared with an easel beneath a Monet that depicted a haystack at twilight. Micawber watched for hours as she copied each texture and shadow. Micawber learned about brush strokes woman made. The woman is never identified by name. Micawber decided to sneak home with the woman in her art kit box. How Micawber got into art kit box is never really explained to readers. When lady went to sleep Micawber came out of art kit box that was in her modest New York apartment. Micawber used artist's palette and squeezed out some oils. Micawber discovered the wonderful world of colors. He painted throughout night and put everything away before the woman woke up. Micawber used his tail as a paint brush. He painted on small canvas. John Lithgow explained how colors looked through Micawber's squirrel eyes. Words of visual splendor were used as Micawber painted on canvas. Cadmium green, magenta, ultramarine, Alizarin crimson, and bright tangerine; such a radiant rainbow he had never seen. So splashy and lavish and lush! Micawber had been looking at paintings at museum for a very long time. He had never painted one. Micawber took his painting and tied a shoe lace around it. The woman thought this was very curious when she woke up and found shoe lace missing from her tennis shoe. The story revealed how Micawber found way home to Central Park holding canvas in one paw. He got ride on a sanitation truck which said, PARK SANITATION.
Over time Micawber saw woman at museum. He completed more works of art. The woman never knew as she biked home that squirrel worked on master pieces of art while she slept. The story of Micawber ends with John Lithgow telling readers to look for a squirrel with paint on tail near carousel.
C.F. Payne did wonderful job illustrating Micawber. He also illustrated John Lithgow book "The Remarkable Farkle McBride". When Micawber was published in 2002 C. J. Payne had also created five stamps for The US Postal Service; had a one-man-show at The Cincinnati art museum and created a hundred foot mural for Cincinnati art museum.
Micawber was John Lithgow's third published picture book.
The picture book also includes CD with John Lithgow reading Micawber. The reading level as listed is age 4-8. The cost was 17.95 US and 28.50 in Canada. I think best way book is through library. I really do not know if Micawber story is still in print. Micawber also has a four page end fold out section. This shows Micawber letting other creatures like Robin, frog, pigeon, bat, rabbit, grass hopper and even fly and roach come into his home above carousel house to see his works of art.
Micawber story is told in rhyme. The museum in Micawber story is inspired by Metropolitan Museum of Art in New York City.
I felt Micawber is a very enjoyable children's story.
Allen Klingelhoets