Post by richardvasseur on Aug 2, 2018 21:47:08 GMT


Sun Khamunaki
Cover Artist Lady Death
Published by: Coffin Comics
Interviewed by: Richard Vasseur
Posted: 02/08/2018


Website: http://www.sunkhanunaki.com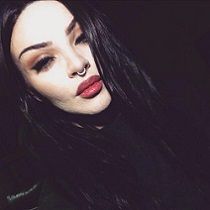 Rich:
How did you join the Lady Death Universe?
Sun:
I've been a Lady Death fan since the first time I walked Into a comic book store. I have tunnel vision when it comes to goals and doing a Lady Death cover was one of them. I wanted to see what she would look like if Rembrandt had been born in the 80s and painted her for a heavy metal cover. I sent the painting to Brian Pulido ,and the rest is history!
Rich:
When you illustrate Lady Death what about her personality do you most try to bring out?
Sun:
I like keeping her regal ,but show her man eating badassness.
Rich:
What physical characteristics of Lady Death do you include in your art?
Sun:
I love focusing on bringing out her pale white skin and giving her an ethereal glow. I wanted to keep as much of the signature aspects of the character as possible. I love Hughes' original art and wanted to pay homage to him as well. Things like the high curved bangs.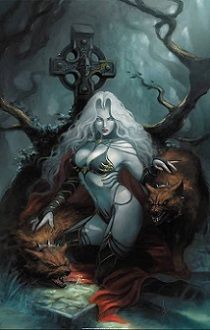 Rich:
Why are people attracted to Lady Death?
Sun:
I think Lady Death represents uncompromised strength of will. She helps us imagine fighting our own demons. The fact that she's doing all that in a black latex bikini helps too. Haha
Rich:
Do you see any personality traits of Lady Death in you?
Sun:
I wish. I think I look up to her more than anything. Maybe her determination. Once she decides something it's done.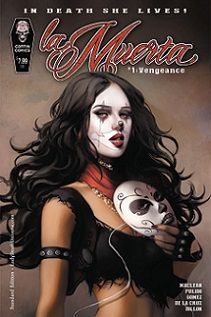 Rich:
Why did you enjoy working on "Zack the Zombie Exterminator" and "La Muerta" and why?
Sun:
I love working on anything Brian Pulido is doing. Zack was super fun but La Muerta felt like a vacation. She's such a deep character and I love adding a lot of emotion to my pieces.
Rich:
Do you prefer the bad girls in comics if so for what reason?
Sun:
This could be an interview all in its self. Women have been oppressed and thought of as objects for too long. I feel that we should be free to express our sensuality without it having a negative connotation. I guess it really depends on what you mean by ''bad girl''. If by that you mean the anti hero or darker character, then yes. I love Characters that have a strong sense of self and aren't afraid to give the rules the finger. There's still a lot of stigma attached to being a woman, particularly one that speaks her mind and refuses to put down. I guess essentially I like to bring homage to the women in comics who fight our oppression.
Rich:
How did you achieve your awesome level of art talent?
Sun:
Blood, sweat and tears. I'm self taught so everything I know is from obversation, trials and error. I put everything I have Into my art, so they take me quite a while and several versions before it's complete. I'm always learning and feel that I'm nowhere near the artist I want to be.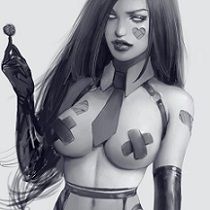 Rich:
What character would you like to do a cover for that you have not?
Sun:
Red Sonja, Purgatori, Lady Demon ,Zombie Tramp and Vampirella are on the top of my list!
Rich:
How do you find going to comic conventions?
Sun:
Conventions are always a blast! I love meeting fans, mingling with other artists and seeing the amazing cosplay. It's an absolute pleasure to be surrounded by talent, celebrities and fans passionate about keeping fantasy and entertainment alive.
Rich:
Why do you have a Patreon account?
Sun:
I set up a Patreon account on a whim for future tutorials but totally forgot about it. I pity my 1 follower. Lol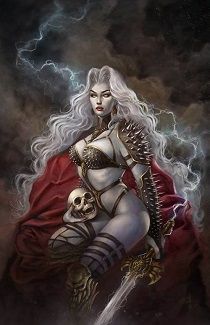 Rich:
What music do you listen to?
Sun:
When I'm painting I listen to movie soundtracks, basically anything really intense and epic. Right now i'm big on game of thrones' and John wick soundtracks. Some techno And new wave retro. Some metal like gwar ,black sabbath,Judas priest . I like All kinds of music. I was Lucky enough to do a cover for a London May album!

Rich:
What would you like to say to all the fans of your work?
Sun:
Sharing art and having people enjoy it is a surreal feeling. I'm so grateful that someone can find happiness in looking at my art. I enjoy making it ,so we're sharing joy and that's a beautiful thing.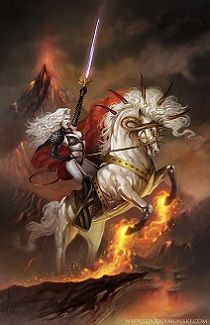 Richard Vasseur