Post by richardvasseur on Aug 2, 2018 22:27:57 GMT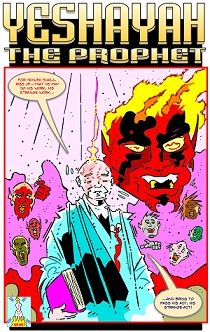 Title of comic book-
Yeshayah the Prophet
Author: James Rubino
Copy-write: 2018
Publisher: God and James Rubino
Theme: Catholic religious
www.jamesrubino.com
JamesRubino
www.jamesrubino.com
James Rubino Comics . I am but a sinful man yet even a moth is drawn to the Light. Comics. Entire Contents Copyright 2018 God and James Rubino.
Page count: 28
Reviewed by: Allen Klingelhoets
This is a modern day story told through the eyes of Yeshayah the Prophet. I felt front and back cover were part of the page count. The front back and inside covers were in color. The rest of issue interior was in black and white. Yeshayah talked about Yahwah which is another name for God. Pages are single full page images drawn by James Rubino. It is a story how God sent Jesus to Earth to bear suffering for human sins. People at that time had not taken time to worship God. There have been instances in Bible with The Great Flood in Noah's time. Sodom and Gomorrah are also talked about in text. James Rubino also states in present time people boast of sins and do not even try to hide them like Sodom did. He said through Prophet "Woe to those who put darkness for light and light for darkness." He also states "woe to those who make unjust laws. They are not following the law of Yahwah the Almighty. James also talks about how the devil Lucifer has corrupted people. James says people have to look to Yahwah to be saved. It is wise to remember the birth of Jesus. James showed examples of how Jesus helped individuals. James through Prophet talked though Jesus did good deeds he was despised and rejected by men. He was born of our griefs and carried our sorrows all the way to his eventual death on cross. He carried all sinner's burdens and iniquities. Than he was clothed with garments of salvation and covered with robes of righteousness. This of course is when in Heaven.
The Prophet finishes story by telling how the Earth shall grow old like a piece of clothing and all who dwell upon it will die in some manner – but God's salvation will be forever. He concludes saying Yahwah could destroy modern day cities like he did like Sodom in biblical times.
This is a very religious point of view story. It is a very personal story for James Rubino. I think main idea is to not forget God in daily activities. The art was nothing like something out of major publisher. It was at best average. This story though just needed to get out to people caught up in destructive or additive patterns. I think this is teen to adult story. I also think this comic would find audiences in churches that had more of Christian point of view. The comic would also be helpful to individuals that have lost their way in world and needed guidance from higher source like God. The comic can be found through James Rubino website.
Allen Klingelhoets