Post by richardvasseur on Aug 23, 2018 19:31:39 GMT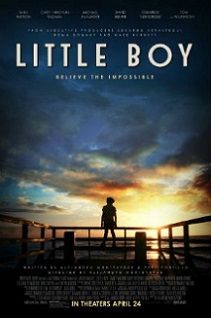 Movie review:
Little Boy

Premiere : 2015
DVD and Blu Ray release: August 2015
Open Road Films released on video by Universal Home Video
Rating: PG-13
Reviewed by Allen Klingelhoets
I liked how movie did not pull any punches about American and Japanese views of each other during World War II. I also liked how 8 year old boy who was small for his age named Pepper Flynt Busbee had a great relationship with his father. His older brother wants to join the war. They are Americans from Seaside town of O'Hare, California. His brother can not join war due to having flat feet. The father decides to go in his place. It is a difficult time when the father gets captured and put into prison camp. The family thinks the father is dead. What I really liked was how Father (priest) Oliver tells Pepper that "faith is useless to anyone who harbors hate".
Father Oliver helps Pepper meet a Japanese stranger named Hashimoto. The man becomes a friend. Through time many in town still harbor hate for foreign man. One person even attempts to kill Hashimoto. This is true clash of cultures in O'Hare. The boy seems to have some form of latent mutant powers. He inspires town when using powers of mind to change impossible situations. I also enjoyed how old comic books were shown in some scenes. I saw one comic of Daredevil. He is far different than Daredevil of present day comics. The boy has idea that he can stop war and get his father home. He attempts for very long time putting hands out towards setting sun in direction of Japan. I was amazed what happened in that scene which explained the title "Little Boy". I also got to find out what happened to child's father.
I thought this was rather amazing story with slight super hero fantasy feel. It was live action World War II drama. Spiritual film dealing with life and death and culture differences.
Little Boy is a 2015 World War II war-drama film directed by Alejandro Gómez Monteverde.The screenplay is by Monteverde and Pepe Portillo, and the film was produced by Eduardo Verástegui and Leo Severino, and edited by Joan Sobel and Fernando Villena.
Here is the cast:
Jakob Salvati as Pepper Flynt Busbee
Emily Watson as Emma Busbee
David Henrie as London Busbee
Cary-Hiroyuki Tagawa as Hashimoto
Michael Rapaport as James Busbee
Ben Chaplin as Ben Eagle
Ted Levine as Sam
Ali Landry as Ava
Kevin James as Dr. Fox
Tom Wilkinson as Fr. Oliver
Toby Huss as Colonel Bob
Abraham Benrubi as Teacup
Kelly Greyson as Tyra
Sam Kindseth as Ronnie
Eduardo Verástegui as Fr. Crispin
James DuMont as Harvey
Candice Azzara as Bertha
Lukas Behnken as Leonard Rice
Mary Stein as Martha
Eijiro Ozaki as Masao Kume
Winston James Francis as Bukha
Masami Kosaka as Commander Tokyo Joe
Theodora Greece as Eliza
Allen Klingelhoets