Post by richardvasseur on Mar 24, 2018 4:29:53 GMT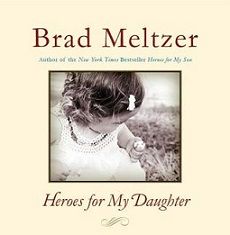 Book review: 1. "Heroes for my Son" was published in 2010
2. "Heroes for My Daughter" was published in 2012
Author: Brad Meltzer
Genre: Non- Fiction
Type of books: Motivational, parenting
Cost: $19.99 USA dollars each
Publisher: Harper Collins
Reviews by: Allen Klingelhoets
www.jazmaonline.boards.net
Brad Meltzer is an international best-selling author. I was surprised to find these two books. I did not know he also wrote non-fiction stories. These two books are not novels with action heroes or villains. There are no clever plot twists. These are books he wrote for his children that ended up selling on book shelves. Brad went through great effort to show love for children. I liked how Brad gave very honest sense of what it takes to be a father. Brad knew that children do not always listen and make own way in world. Brad tried to give guidance through use of fictional and non-fictional characters. He tried to instill many role models for his daughter Lila and sons Theo and Jonas. Brad worked very hard finding so many different heroes as role models for children.
I think some of my personal favorites from both books are Jim Henson, Rosa Parks, Lou Gehrig, Christopher Reed, Mother Teresa, Lucy, Frank Robinson, Martin Luther King Jr., Mary shelly, and of course Joe Shuster and Jerry Siegel.
I also really enjoyed introduction of "Heroes for my Son". I liked how Brad's Grand Father told Brad Batman stories as child. I enjoyed Brad's memories which helped influence him as mystery writer.
I thought terrific that used quotes from each individual talked about in each book. These two books contain inspirational people from around Earth not just USA. Leonardo Da Vinci was even mentioned as role-model as Renaissance man.
Some of the individuals selected really brought tears to my eyes, Martin Luther King Jr., Pele', Mohammad Ali, nelson Mandela, Anne Sullivan, The Heroes of Flight 93, Marie Curie. The true sacrifices by each was almost to point of impossible.
I was also amazed by way some people raised money for charities. Audrey Hepburn as Goodwill Ambassador for UNICEF. I think though story that really brought tears to my eyes was Alex Scott.
I was not aware of "Alex's Lemonade Stand". It was sad to read that Alex passed away from Cancer. I was glad that her idea to raise money for cancer helped raise millions of dollars through many others opening lemonade stands in Alex's name.
I liked how even fit Sheila Spicer into "Heroes for my Daughter". Sheila was Brad's ninth grade English teacher. She recognized that Brad was a good writer. She helped spark Brad towards writing career.
Brad also talked about his Grand Mother Dotty Rubin. She would never say "Good Bye" but "See You Later." Dottie was always optimistic no matter how bad health conditions got with advanced age.
Brad should be proud to have wrote such positive books. These books might not be best sellers like his other novels. They are helpful and beneficial books. I learned a little bit about so many positive role models. Brad even mixed in fictional character Lucy Simpson as positive role- model.
Thank you Brad Meltzer for creating these special books. I look at moon and think of Neil Armstrong's first steps on surface. I think what it would be like if Stephen Spielberg did not create movies like "The Color Purple", "Schindler's List" or "Saving Private Ryan"? What if Jonas Salk did not find vaccine to cure polio? The benefits the world has known through Oprah Winfrey Foundation. The dreams come true through Frank Shankwitz Make a Wish Foundation. These are only a select few from the people that were talked about in one page essay about each individual or group. I thought more about these individuals after noticing them selected in books.
I think these are books for about 10 years and up. There is a composite of all sorts of people from comedians like Charlie Chaplin, The Three Stooges and even sports athletes Olympic runner Jessie Owens.
I read both books in little over an hour. "Heroes for My Son" contained 52 stories about inspirational people. I think pretty close to that for "Heroes for my Daughter". There was also no real mention of religious heroes like Jesus. Brad gave reasons in intro. It was own feeling to not cause conflicts with so many cultures reading books.
The books conclude with place to share personal memories about heroes. Brad also encouraged readers to send stories about heroes to him.
Back cover of "Heroes for my Daughter" had wonderful quote.
No one is born a hero. Every person in this book had moments when they were scared and terrified. Like you. Like me. So how did they achieve what they achieved? Because whatever their dreams were, big or small-for their country, for their family, or even for themselves- they never stopped fighting for what they loved.
-----Brad Meltzer------
Allen Klingelhoets